Dawnus: Swansea building firm goes into administration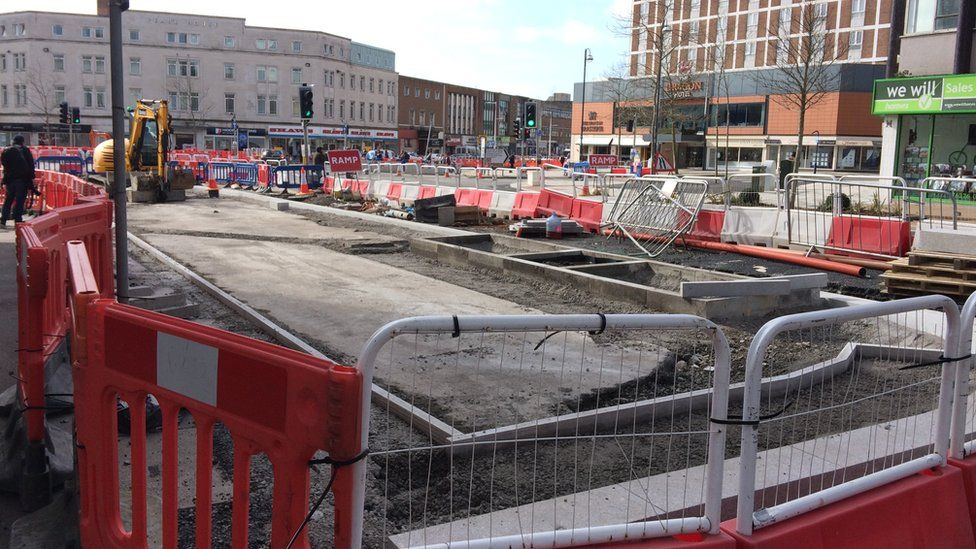 Construction company Dawnus - which employs 700 people - has gone into administration, it has been confirmed.
Administration firm Grant Thornton said the Swansea-based company had gone bust on Friday after work was halted on several UK projects.
Administrator Alistair Wardell said the group faced a "wide variety of challenges".
He added: "Whilst the financial difficulties of the group were not a consequence of Brexit, there is no doubt that Brexit uncertainty impacted the ability to rescue the business."
A spokesman for the Manchester-Salford Inner Relief Road scheme, being carried out jointly by Manchester and Salford City Councils, said they had been working on contingency plans since Tuesday.
They added: "We recognise that commuters want to know what happens next and we will provide a definitive update as soon as we can. Existing staff working on the project are also a key consideration as we work to finalise next steps."
A road in Fishguard, Pembrokeshire, has been affected, as well as three school projects in Powys and Highwood Copse Primary in Newbury, Berkshire, which was due to open for the first time in September,
A spokesman for the school's trust said: "West Berkshire Council are now urgently investigating the options to enable the building works to continue."
Adrian Waters, of Pontypool-based construction company AP Waters, said he decided not to accept contracts from Dawnus after delays in payment for a project in Rhondda Cynon Taff.
"We work on tight margins and when there are delays in being paid it has a massive impact," he said.
His company, which has 100 employees, was contracted by Dawnus to work on a project at a recycling centre in Hirwaun three years ago, he said.
"We did get paid in the end - but there were a couple of things we weren't comfortable with and we decided not to take any more contracts with them."
Reacting to the news Dawnus was in administration, Mr Waters said he felt sorry for everyone involved in the supply chain.
"So many businesses are going to take the brunt of this. Small businesses. Family businesses.
"I dread to think how much money they owe in total - and when this happens, you may only get a couple of pence in the pound back."
The Welsh Government said it had "worked closely with Dawnus, HSBC Bank and the Development Bank of Wales over many months in order to try and prevent this unfortunate decision".
A spokesman added: "This sad decision will also have significant impact on the small and medium sized businesses within their supply chain, many of which are in Wales.
"We will do all we can to support all companies and workers affected by this news."
Dawnus was also a supplier for a company working on the HS2 high speed railway line, but a spokesman for the project said the firm would "implement contingency plans to ensure works are delivered on schedule, with minimal disruption".
Dawnus has its headquarters in Swansea but runs construction projects across the UK and overseas.
The most recent company accounts show the company had a turnover of £170m in 2017, but posted a pre-tax loss of £1.35m.
Last September, the company said it employed 700 people.
As well as domestic construction, it previously operated in west Africa and worked on projects during the Ebola crisis.
Grant Thornton is not taking over any international operations at Dawnus International, Dawnus Sierra Leone or Dawnus Liberia.