Extra Inset day planned for schools in Wales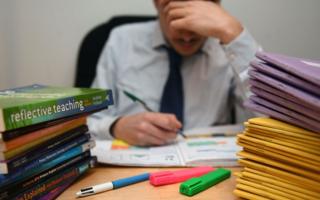 Schools in Wales will be given an extra Inset day each year for the next three years under plans announced by Education Minister Kirsty Williams.
The aim is to help teachers prepare for the new national curriculum, which is being rolled out from 2022.
It means parents face finding childcare for another day in addition to the five existing training days.
A consultation on the proposal has started, aimed at introducing the change from 2019-20.
Ms Williams said: "An additional Inset day shows how serious we are about giving our teachers the time and support they need to prepare for the new curriculum."
But she said she also wanted to hear from the pay review body and forum on its "ideas and thoughts" on how Inset days are currently used and the number needed to support effective professional learning.
The consultation document said it recognised that the additional Inset day "may be difficult for some parents" but believes that a national approach was necessary.
What is an Inset day?
In-service Training (or Inset) days were first introduced in 1988 by then-Education Secretary Kenneth Baker and were nicknamed "Baker days"
There are five Inset days currently fixed for training and professional development - with teachers in schools and pupils absent - and one was set aside to focus on numeracy and literacy work
The extra day would be to support teachers to deliver the new curriculum, with a focus on professional learning seen as "critical if we are to ensure readiness and engagement"
Inset days can be difficult for parents, who have to arrange time off or childcare and can be tricky when they have children at different schools and may have Inset days at different times
This extra Inset day is being proposed to be on a fixed day for all schools in Wales