St David's Day celebrated on the internet


It's not just in Wales where leeks and daffodils have been worn proudly to mark St David's Day - celebrations have been shared online around the world.
UK embassies abroad, including those in Lithuania and Washington DC, were among those posting messages on Twitter.
Football teams also got into the spirit of things as St David's Day trended online.
And some US buildings, including Trump Tower in Chicago, will be lit up red, white and green.
Heathrow airport posted an image of a dragon taking flight from one of its runways, while the Swiss embassy posted a photograph of a leek in the capital Berne.
The Welsh flag was also spotted proudly flying in Oman by Foreign Secretary Jeremy Hunt.
Meanwhile, US actor David Hasselhoff posted a stirring video for the national rugby team.
Wearing a Welsh rugby shirt, the Knight Rider and Baywatch star, who is married to Hayley Roberts from Neath, focused on the Six Nations rugby.
Football clubs joined in the celebrations too - Wolverhampton Wanderers used a photograph of their former Welsh international George Berry, while Tottenham Hotspur used a shot of Gareth Bale.
Another popular Tweet, was a video referee Nigel Owens posted of himself in a traditional Welsh ladies' costume, carrying daffodils.
Meanwhile, more than 200 people took part in a parade through Cardiff city centre as St David's Day trended online.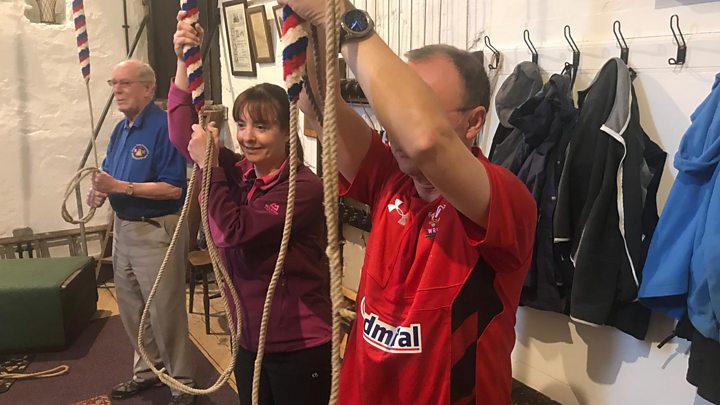 In Abergavenny, Monmouthshire, bell ringers at St Mary's Priory Church took part in a three-hour peal.
And to mark the special day, 16 Cadw sites in Wales, including Beaumaris Castle, Caernarfon Castle, Caerphilly Castle, Carreg Cennen Castle and Castell Coch also all opened their doors free of charge.