'Massive response' to Strata Florida Abbey open day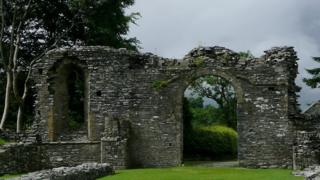 More than 150 people attended an open day at a Cistercian abbey in Ceredigion.
Strata Florida Abbey in Ystrad Fflur, near Tregaron, was a centre of culture in the 12th and 13th Centuries.
The trust managing the site asked for people's opinions on how it should be re-developed in the future.
Professor David Austin, chair of the Strata Florida project, said: "There was a massive response to the open day."
He added that "a lot of the local community turned out which is exactly what we wanted".
The Strata Florida Trust is to focus redevelopment work around a farm which was built over the site.
It is working with the Prince's Foundation to revive Mynachlog Fawr farm and turn it into a visitor experience.
As well as thoughts on how the site should be developed, open day organisers asked for people's memories and displayed historical maps and children's artwork.
Tiva Montalbano, from the Prince's Foundation, told BBC Wales: "The foundation is committed to supporting the trust in redeveloping and regenerating the site."
The Allchurches Trust is also funding a summer school for archaeologists at the abbey that will run for the next three years.
Trust chairman Sir Philip Mawer said: "We're proud to support this exceptionally exciting project that will help halt the decline in practical archaeological opportunities and skills in the UK, breathing new life into this fascinating profession as well as enriching the local economy and protecting an important cultural site in Wales for future generations."