School ratings in Wales see another improvement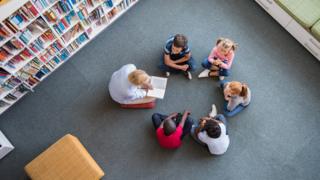 There has been another improvement in school performance in Wales, according to annual categorisation ratings.
Another 89 schools in Wales have been rated in the best "green" category, which now covers 41.5% of all schools.
The colour-coded National School Categorisation System was introduced in 2014 and assesses how much support each school needs.
There are four fewer schools in the red category - those needing the most help. The proportion is 3.4% of all schools.
The assessment now includes pupils' wellbeing, and the quality of teaching and learning, not just performance such as exam results.
The full school-by-school information has also been published.
How did my school get on?
In summary:
88.4% of primary schools and 69.4% of secondary schools are now in the green and yellow categories. This increase from last year continues the upward trend since 2015.
There has been a rise in the number of schools in the green category - those schools requiring least support by 6.2% - up to 41.6%.
The proportion of red schools - those identified as needing most support - is about the same as last year.
52.5% of special schools have been categorised as green, and needing less support, with no schools categorised as red and in need of most support.
Education Minister Kirsty Williams said: "I'm pleased to see that even more of our schools are now in the green and yellow categories, continuing on with the upward trend we have seen over the past few years.
"These schools have a key role to play in supporting other schools to improve by sharing their expertise, skills and good practice.
"The system has become more sophisticated over time and now allows for a much broader range of factors about a school's ability to improve to be taken into account - leading to a tailored programme of support and intervention which meets the needs of all pupils."
When the full ratings are analysed, some of the headlines show:
Two secondary schools - Abertillery and Cardiff West - have remained in the red category for five successive years.
Two other secondary schools have been "red" for the last four years.
All secondary schools in Anglesey, Carmarthenshire and Swansea were in the highest green and yellow categories
Caerphilly had no green secondary schools and nine of the 12 were either amber or red, while nearly 100 primaries in Cardiff only one was in the red category with over half in the highest green category
Pembrokeshire had the most "red" schools - six primaries, and three of its eight secondary schools.
A Pembrokeshire council spokesman said: "Each school that requires red support is aware of the improvements that they need to make and is working collaboratively with the local authority and regional consortium to make the necessary improvements".
Analysis from Bethan Lewis, BBC Wales education correspondent
Ministers are adamant this is not about ranking the best and the worst schools but about making sure they get the right support.
But that is not how many parents will see it as they search to see what colour their local school has been given.
More schools are in the top categories and that will be welcomed, but the number of "red" schools is still a matter of concern.
The Chief Inspector of Schools recently said a rethink was needed about the way failing schools are supported to improve.
And some schools have failed to climb out of the lower categories after several years.
But some would like to see this system scrapped altogether.
A report by international research body the OECD said the public colour-coding of schools should be ditched as part of a move away from a "high-stakes" approach to measuring schools.
So do not be surprised if this system for measuring schools - like others before it - is soon a thing of the past.