Broadband: telecoms giant Openreach to add 200 jobs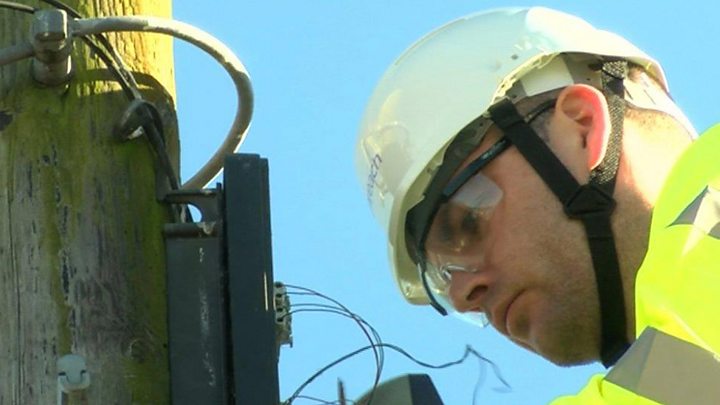 More than 200 jobs will be created across Wales by the telecoms giant Openreach as part of efforts to improve broadband coverage.
About 140 new trainee engineers will work across Wales, including in Powys, Carmarthenshire and Denbighshire, to roll out superfast fibre broadband.
And about 60 office-based jobs will be created in Cardiff.
They will working on opening up Openreach's infrastructure to other internet service providers.
Last year the company, which is part of the BT group, recruited 250 trainee engineers throughout Wales.
There have been complaints Wales still lags behind other parts of the UK on broadband services and speeds, particularly in rural areas.
'More women'
Across the UK, Openreach will recruit more than 3,000 trainee engineers, mainly to deliver the company's Fibre First programme.
Huw Jones, Openreach's director for service delivery in Wales, said they wanted to build a diverse workforce.
"Last year we successfully recruited more women than ever before - and this year we want to go even further," he added.
The Welsh Government said its Superfast Cymru programme - a partnership between private and public sector - meant 95% of properties across Wales now had access to superfast broadband.
Economy minister Ken Skates said: "We will continue to work closely with Openreach on our successor project which will roll-out to a further 26,000 premises across Wales, with the majority of these premises enjoying access to ultrafast speeds.
"We look forward to these new recruits playing an important part in that work."