Former Cardiff postman admits terror charges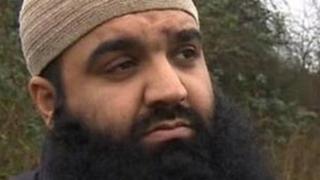 A former postman has admitted to spreading terrorist information, on the first day of his trial.
Sajid Idris, 36, was sentenced to 21 months, suspended for two years, at Kingston Crown Court.
In July 2017, Idris, 36, from the Grangetown area of Cardiff, was charged with four counts of disseminating a terrorist publication online.
He was due to be prosecuted at a two-week trial, but on Monday he pleaded guilty to all counts.
Idris was described as a devotee of radical Islamist Omar Bakri Mohammed - who is banned from the UK - and had uploaded a number of his talks to YouTube channels, advocating terrorism and violence.
His Honour Judge Paul Dodgson said earlier: "There is no doubt when one looks at the contents of these four channels, represented by the four counts, that you and those like you were at that time inciting others within our country to perform acts of violence for terrorist purposes.
"You lived in our society and yet it was a society which you were encouraging others to fight and obliterate."
Radical preacher
After searching devices seized from his Cardiff home, police also found evidence that Idris had been sending money to convicted terrorists.
One copy of his Islamic marriage contract was signed by radical preacher Anjem Choudhary.
His laptop also had a letter showing his closeness with Abdul Miah - one of the Cardiff men convicted in 2012 for the London Stock Exchange bomb plot.
Police also found evidence he had sent items to Michael Adebolajo, who was convicted of murdering solider Lee Rigby in 2013, and a large quantity of Islamic extremist material - including an Al Qaeda training manual.
Idris was arrested by officers from the North East Counter Terrorism Unit and the Wales Extremism and Counter Terrorism Unit in December 2014, but no charges were brought against him at the time.
He was re-arrested in 2017 and was due to go on trial with his wife Sadia Malik earlier. The case against his wife has been dropped.