Rail service improvements pledge by TfW boss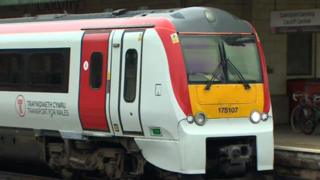 Rail passengers will continue to see improvements in capacity and services over the next few years, according to the boss of Transport for Wales (TfW).
James Price made the comments as the company ran a full service on Monday, as commuters returned to work after the Christmas and new year break.
TfW apologised in November as a third of its 127-fleet were out of service.
Trains were affected over the festive period, but services have since been fully restored.
Passengers suffered delays, cancellations and bus replacements before Christmas, as an "unprecedented" number of trains were damaged or in need of repair.
Chief executive Mr Price said passengers would start to see improved capacity of trains with 100 new-to-Wales carriages this year.
"Really, from now on in, we will see improvements every year for the next three to four years," he told BBC Radio Wales' Good Morning Wales programme, adding that £5bn would be invested.
"We just need our customers to bear with us as we go through that but we want to make it as easy as possible."
Drivers on the M4 motorway, especially around the Brynglas Tunnels at Newport, the old toll plaza area of the Prince of Wales bridge and at Port Talbot, were warned to expect bottlenecks during Monday's return to work, as well as on the A55 in north Wales.