Wales homeless deaths: 90 people die in five years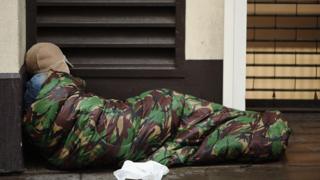 There have been an estimated 90 deaths of homeless people in Wales in the five years up to 2017.
England and Wales as a whole saw a rise of 24% in the deaths from 2013 to 2017, according to the Office for National Statistics (ONS).
Last year there were 13 deaths in Wales, while the overall figure for the two countries in 2017 was 597.
Crisis' chief executive Jon Sparkes said the statistics were "a national tragedy".
Ben Humberstone, from the ONS, said it was "vital" to "properly shine a light on this critical issue."
Shelter Cymru's director John Puzey said it was not true that homeless people choose their lifestyle.
"There are myths that many people choose to be there, when in truth services aren't available for them," Mr Puzey said.
Mr Puzey said he believed the figures - which list age, sex and broad cause of death - can improve the situation.
"Anything which highlights the perilous position of people living on the streets is to be welcomed," he said.
"It's well known that life expectancy is much shorter. It's not a place to be. Life is difficult and dangerous."
In 2017 more than half of all homeless deaths in England and Wales were due to drug poisoning, liver disease or suicide.
In response to the statistics, Crisis chief executive Jon Sparkes said: "It's shocking to think that hundreds of people faced the last days of their lives without the dignity of a secure roof over their head. This is nothing short of a national tragedy - especially when we know that homelessness is not inevitable.
"In one of the world's wealthiest countries, no-one should be dying because of homelessness. It's imperative that governments act now to stop this tragedy once and for all.
"Behind these statistics are human beings - mothers, fathers, daughters and sons - whose families will now be spending Christmas coming to terms with their loss. This has to change.
"Governments must urgently expand the system used to investigate the deaths of vulnerable adults to include all those who have died while street homeless, so that crucial lessons can be learned to help prevent more people from dying needlessly."
Rough sleeper Lindy Louise Pring, 32, was found dead at Cardiff's Alexandra Gardens in November 2017.
A coroner later concluded she died after taking drugs, but that pneumonia was also a factor.
Aaron French-Willcox was 19 when he was found dead in a Cardiff park on 13 February this year.
The teenager became homeless after problems with substance misuse and family difficulties.
And while Cardiff charity Huggard gave him hostel accommodation in 2017, he later took to living in a tent in undergrowth at Hamadryad Park in Cardiff Bay.
He fell into a diabetic coma, with his inquest hearing he had not been taking enough insulin.
The ONS research showed that homeless men died on average at the age of 44 and women at 42 in the five-year period, compared with 76 and 81 for the general population respectively.
This week, Minister for Housing and Local Government Julie James announced more than £1.34m to tackle the issue this winter.
She said the Welsh Government was working with local authorities and the third sector to provide "the right support to help people who are sleeping rough in Wales to leave the streets".