Ucas: Welsh university course acceptances down 5.7%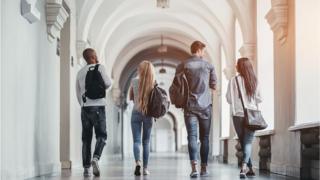 The number of students accepted on to full-time courses at Welsh universities has fallen by 5.7%, according to the admissions service Ucas.
Wales is the only part of the UK where the total number of students given places fell in 2018 compared with 2017.
It included a 20.8% drop in EU students accepted on to courses.
Universities Wales said the figures pointed to several potential challenges, including the decline in the number of 18-year-olds in Wales.
The Ucas figures reflect applications for full-time undergraduate courses, and do not include part-time and postgraduate students.
As well as the fall in EU students, there was a 6.5% drop in non-EU international students starting courses.
Education Secretary Kirsty Williams had previously said it was "inevitable" that changing student finance policies would affect Welsh universities' ability to recruit EU students.
The tuition fee grant, which was scrapped as part of major reforms to student finance, was also available to EU students.
There has also been a significant fall in the number of people applying to at least one Welsh university over the past two years but Ucas said it is only this year that it has been followed by a decrease in acceptances.
This year 71,455 people applied to at least one Welsh university, down 6.3% since 2017 following a 6.2% drop in the previous year.
Welsh applicants are the most likely to study outside their home country with more than 40% going to institutions in other parts of the UK.
Ucas said this is in contrast to Scotland and Northern Ireland where there are financial incentives for applicants to study at a home university.
Fewer 18-year-olds
A Universities Wales spokesman said the recent figures pointed to a number of potential challenges including "demographic change" in particular the decline in the number of 18-year-olds in Wales.
"However, despite this decline the proportion of those 18-year-olds in Wales choosing to go to university is at a record high," he said.
A Welsh Government spokesman said given the number of 18-year-olds, levels of demand for full-time undergraduate higher education remained strong and it was the second-highest number of acceptances on record for Welsh-domiciled students.
"These figures show only one part of a broader picture - data for part-time and postgraduate students is not included in the statistics.
"Wales is the only country in Europe to provide equivalent maintenance support - in grants and loans - to part-time and full-time undergraduates and that's why we remain confident in our package of student support - the most generous in the UK."
Analysis by BBC Wales education correspondent Bethan Lewis
Competition for students has rarely been more keen.
A decreasing 18-year-old population and therefore fewer potential recruits has been a key reason for that.
It is one of the challenges Bangor University refers to as it starts a consultation about closing its chemistry department.
Fewer students means less income from tuition fees and on top of that, Welsh universities say over the years they have lost out compared with English institutions due to the student finance system.
That system has now changed, but as it is rolled out, there is a lag in its impact on university finances.
But any changes will not have an equal impact across all Welsh universities, which vary hugely in size and structure.
We should get more of an idea what is happening with full-time undergraduate student numbers when Ucas releases data for individual universities in the new year.