Swansea Council diary with people's details found on road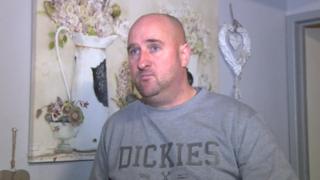 A diary thought to belong to a council staff member containing personal details of vulnerable children and adults has been discovered in a lay-by in Carmarthenshire.
Mark Edwards, from Tegryn in north Pembrokeshire, said the Swansea Council book, found on the A48, also includes details of visits to those people.
He said the book contained names, dates of birth, addresses and phone numbers.
A council spokesman said the document has been recovered.
"I think whoever lost this book is very incompetent," Mr Edwards said. "This should never have been lost.
"This information should have been digital. It should have been coded. Nobody should be able to get hold of it."
The diary includes details of visits this year to vulnerable adults and children in the Swansea area, as well as contact details for members of the public and police officers.
'Strict policies'
"There's a whole array of different information," Mr Edwards added.
"It shouldn't have been left on the side of the road."
A council spokesman said the authority treated data security as a "top priority".
"We have very strict policies and procedures in place," he said.
"We take reports of any breach extremely seriously and we are investigating this as a matter of urgency to establish the full facts.
"We have informed the relevant authorities and the document has been recovered."