£200m Llanelli wellness village 'on the rocks' claim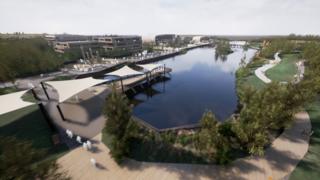 A planned £200m wellness village is "on the rocks" it has been claimed, after Carmarthenshire council dropped a key partner.
Opposition leader Rob James previously called for the Wales Audit Office to investigate the plans for Llanelli.
The village is part of the £1.3bn Swansea Bay City Deal which, the UK and Welsh governments announced this week, is to be the focus of a review.
Carmarthenshire council said on Friday it would deliver the project itself.
The village at Delta Lakes - comprising leisure, education and health services - is expected to create up to 2,000 jobs and bring £467m to the local economy.
It should receive about £40m from the UK and Welsh governments through the City Deal, along with £32m from the council and needs to raise another £128m from the private sector.
On Wednesday, the authority provisionally approved the business case for the developments, but raised concerns over the legal process and wanted assurances.
Mr James, who leads the Labour group on the council, welcomed the decision at the time to seek further assurances about the project "in light of the suspensions at Swansea University".
That includes the dean of the business school, Prof Marc Clement, who was involved in writing the submission for the City Deal funding, which includes the Wellness Village.
On Thursday, a "rapid review" was launched into the City Deal and 24 hours later, the council ended its "formal collaboration agreement" with Sterling Health Security Holdings which was due to help deliver the project.
The council said it would continue to work with its other partners Hywel Dda University Health Board, University Wales Trinity Saint David and Swansea University to deliver the scheme.
"I think this is the last roll of the dice where they are trying to save the deal and if they don't get it right, that could be the end of it and there could be further ramifications for the City Deal," Mr James said following the latest developments.
He posed questions to the council about the village project three weeks ago but admitted he did not expect things to "unravel" so quickly.
'Desperate for investment'
"We were just trying to get some answers," he added.
"We've been absolutely clear Llanelli is desperate for investment and you need good quality jobs."
Emlyn Dole, leader of Carmarthenshire council, said: "The collaboration agreement was simply an agreement to work together to develop the various aspects of the Delta Lakes project and draw up a development agreement for its delivery.
"That development agreement has not been agreed and the county council has concluded that the project can be better delivered in another way.
"No public funding has been committed to the partners, no companies have been established, no shares allocated and no directors appointed."
Sterling Health has been asked to comment.