Childlike manikin gives 'next level' nursing training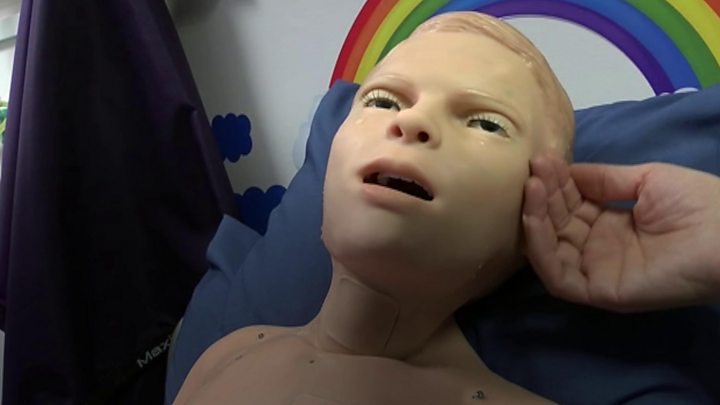 Child nursing students are getting a more "enhanced and realistic" experience with the help of a hi-tech manikin named Hal.
Hal, which has the body of a five-year-old, has a pulse, can change skin colour, turn his head and cry to mimic the behaviour of sick children.
Students at the University of South Wales (USW) can practice with Hal before treating children on wards.
Lecturer Sarah Gethin Davies said it can take teaching "to the next level".
She added: "We do actually treat him as a real child because they're talking back to him and reacting with him.
"He just takes it all to the next level. He gives us a deeper and wider variety of expressions and reactions to the students when they're assessing him.
"[The students] are able to learn in a safe environment with their tutor. They are able to make mistakes."
Student James Necerws-Morgan said Hal, who is being used on the USW Glyntaff campus in Pontypridd, has helped with his undergraduate training.
"I've learnt the kind of skills needed to go out and practice as I'm going out on placement soon," he said.