Glan Clwyd Hospital's 'poor care' as woman dies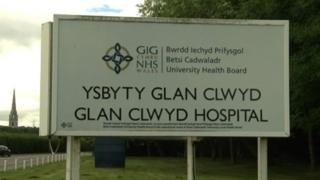 A woman died after receiving "very poor" care when she arrived at hospital, an inquest has heard.
Karen Hocknull, 72, waited more than an hour to be seen by a triage nurse at Glan Clwyd Hospital, near Rhyl, and a junior doctor failed to monitor her condition because he was "too busy".
The coroner heard she died about six hours after arriving at the hospital.
She died of a bronchial pneumonia and a massive pulmonary embolism, but she also had undiagnosed lung cancer.
The inquest at the coroner's court in Ruthin heard that Mrs Hocknull, from St Asaph, saw her GP on 26 June 2017 with a swollen gland in her neck.
She was taken to hospital in a St John Ambulance, but it was busy and she was left on a trolley for more than an hour.
Junior doctor Shujah Khan said he failed to monitor her condition because it was so busy.
She died at about 21:00 BST.
'Totally inadequate'
Betsi Cadwaladr University Health Board held reviews following her death and John Gittins, coroner for north Wales east and central, commissioned an independent report from Prof Solomon Almond, a consultant physician at the Royal Liverpool Hospital.
He said that because of the lung cancer, Mrs Hocknull had a very poor prognosis when she arrived at the hospital.
But, he added her condition had been miscalculated in the ambulance and she should have been triaged within 15 minutes.
"Despite a number of failings she had an unsurviveable condition," he said.
He added the explanation given by Dr Khan that he was too busy was "totally inadequate".
Adam Griffiths, head nurse for unscheduled care, who chaired the internal review, said steps had been taken to prevent a recurrence.
The coroner recorded a conclusion death from of natural causes.