Anglesey leisure centres 'should close' to save schools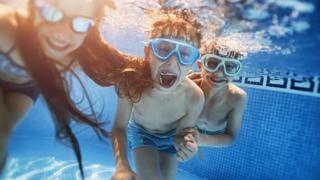 Anglesey County Council has been urged to consider closing or offloading its leisure centres in a bid to save vital services such as schools.
The call came from Beaumaris, where the local community took over its leisure centre in 2013 to save it from closure.
Anglesey residents have been warned of a council tax rise of up to 10% because of a budget gap of £7m, according to the Local Democracy Reporting Service.
The county is considering the closure of almost 30 of its smallest schools.
But it has said it wants to invest more in its leisure centres, as it consults the public on local needs.
Despite a 60% cut in the leisure budget over the last three years, money has been spent to keep four council-run leisure centres open at Amlwch, Llangefni, Menai Bridge and Holyhead.
When the centre at Beaumaris was threatened with closure in 2012, a local friends group struck a deal to take it over, and it is now largely self-sustaining.
It has been so successful that plans are in the pipeline for a £1m investment in the facilities.
At a meeting of Beaumaris Town Council, one member, Stan Zalot, said the county council should consider closing its remaining leisure centres or finding someone else to run them.
"Do we really need them all?" he asked.
"When we keep things like that to the detriment of schools, I think things are going the wrong way."
But another town councillor, Clay Theakston, said he felt "uncomfortable" with the idea of making a call "which deliberately undermines services in other localities".
Anglesey council's commercial leisure manager Gerallt Roberts said: "We'd like to see new investment in the island's leisure centres and sport facilities over the coming years so that they can enable communities to become more active and healthy."