Wrexham's football commentary for visually impaired fans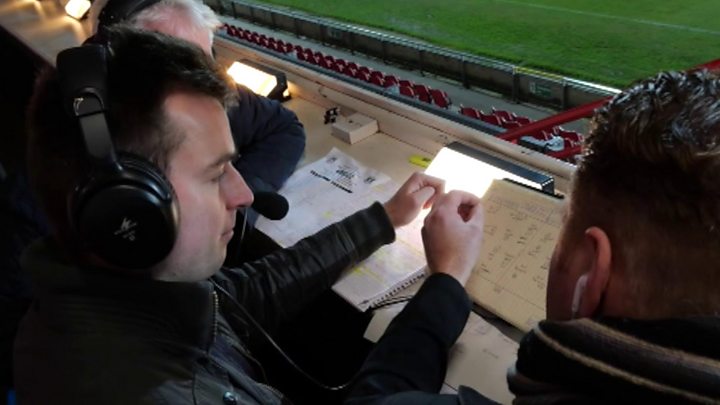 "My match day experience isn't the same as everybody else's."
Mike Hughes has been a Wrexham football fan for more than 40 years, and a season ticket holder for the last five.
He has two genetic eye conditions which means he sees in "washed-out colour" and not in focus.
"I can see the ball travelling. I don't really have any idea of who does what, player's numbers, player's names sometimes I can identify them, sometimes I can't," he said.
The 55-year-old said while radio commentary is excellent, it can get caught up in the emotion of a match and lacks detail and precision.
He is excited about a new audio descriptive commentary service launching on Saturday at the Racecourse for the match with Eastleigh.
It will provide additional narration that describes all significant visual information such as body language, facial expression, scenery, action, clothing and colours.
Visually impaired and blind fans at the ground will be able to get a headset and listen to the commentary during home matches.
"This brings me closer to everybody else's experience," Mr Hughes said.
Volunteers have been training for the last couple of months with a team of audio description experts, who have commentated on the Commonwealth Games and Champion's League Final.
Alex Carter, 27, said the trickiest part was constantly reminding the listener where the ball is.
"It is not your traditional commentator's role, it is completely different to average football commentary, you have to make sure from minute one to minute 90 you're telling that viewer where the ball is, who is doing what and what happened which can be quite frantic," he added.
Alan Fox, who has been a Wrexham fan for more than 50 years, is another one of the volunteers.
Together they have been sending audio clips as homework to their trainers for marking.
He said the hardest part has been turning from supporter to commentator.
"You have to remind yourself that at the other end of the receiver there's a blind fan that needs to know what's going on... and that's our job now," he added.
The project is the brainchild of Steve Gilbert the co-chairman of Wrexham AFC's Disabled Supporters Association.
He said he first heard about audio descriptive commentary at a conference in Paris where one fan described it as "like having their eyesight back for 90 minutes".
Over the last three years, the group has organised sponsorship to pay for training and about 10 headsets for fans at a cost of £150 each.
He said the group will now try to secure more funding for headsets so more fans can listen.
"We do get emotionally involved. I'm sure I'll have a tear in my eye when it goes live," he added.
Level Playing Field, a charity that campaigns for good access for all fans, said Wrexham AFC was helping many "blind and partially sighted fans enjoy the beautiful game".
It said it would "advise all football clubs" provide it.
The organisation said Swansea City provides audio description in their hospital radio broadcasts, Cardiff City is in the process of providing it, and Newport County offer audio commentary via an iPlayer feed.
Mr Hughes, the first fan to use the commentary at Wrexham, said he was "very impressed".
He said it took a while to get used to, but he had "been able to follow more of what's going on with the opposition for the first time ever".
"It's the final piece of the jigsaw," he said.