Swansea Bay city deal faces 'rapid independent review'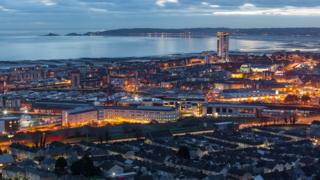 A "rapid independent review" of the Swansea Bay City Deal has been announced by the UK and Welsh governments.
The review will cover due diligence and governance in relation to all elements of the £1.3bn deal and its implementation.
The plan, announced 18 months ago, aims to create more than 9,000 jobs over 15 years around technology and science.
A joint statement said the review would "underpin the next stage of delivery".
Swansea Bay City Region said it would work closely with the governments.
The review will include a stock-take on progress and provide partners - who include four councils, health board and universities - "with the assurance that all elements of the deal will deliver the full economic benefits of this ambitious programme".
It said it would also inform future decisions on government funding as well as "provide the greatest confidence" to potential private investors.
Earlier, there were calls for the Wales Audit Office to investigate a £200m proposed Wellness Village for Llanelli.
The project is expected to receive £40m from the UK and Welsh governments through the city deal, subject to the business case. There would be another £32m from Carmarthenshire council.
The village is expected to include leisure, education and health services.
There is also an ongoing internal investigation at Swansea University, which has included suspensions of senior staff although the university would not be drawn on the details.
The vision has been to create high-quality jobs around digital infrastructure, as well as innovations, and to build about 11 projects.
The statement said all partners remained committed to the success of the deal, and it has been agreed that work on individual projects will continue in parallel with the review.
A Swansea Bay City Region spokesman said: "As outlined by the UK government and Welsh Government, considerable progress has been made since the signing of the Swansea Bay City Deal.
"We will now work closely alongside both governments on the independent review, with all partners remaining fiercely committed to delivering this unprecedented programme of investment.
"Work will continue on all individual projects while the review is ongoing so that residents and businesses can benefit as soon as possible."
Analysis by Brian Meechan, BBC Wales business correspondent
This review comes after concerns escalated over how the city deal is progressing.
There has been criticism of how slowly business plans were being brought forward for some of the 11 projects that make up the deal.
The suspension of academics at Swansea University has added to the questions over the process.
One of those suspended, Prof Marc Clement, was heavily involved in the submission of the City Deal proposal.
The planned investment has been broken down as £241m coming from UK and Welsh governments, £360m from the public sector and universities, and another £673m in private money.
There is a question of how potential investors will react to what appears to be growing concerns over this deal.