Domestic abuse: 'Seek help', murder victim's family say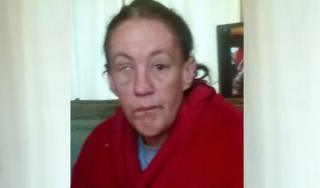 A woman murdered in her own home by her partner had survived an unrelated attack years earlier which left her blind in her right eye.
Michelle "Denise" Rosser, 38, died of "catastrophic injuries" resembling someone in a car crash, a court heard.
Simon Winstone, 50, denied murder but was found guilty and jailed for life.
Ms Rosser moved to Bedlinog, Merthyr Tydfil, after an attack by three men in 2009 left her with a fractured skull and partially blind.
But she did not escape from further violence and her family has urged victims of domestic abuse to seek help.
Winstone's murder trial at Merthyr Tydfil Crown Court was told that the couple had a "turbulent" and "volatile" relationship.
And she had tried to cover up the "black eyes and swollen lips" by passing off injuries as accidents, jurors heard.
The day before her death last May, neighbours had overheard arguing coming from the house.
Ms Rosser was found dead following a 999 call by a neighbour after Winstone went outside to ask people to call the police.
Footage released by police from an officer wearing a bodycam showed Winstone walking back to the house to tell officers, "she's dead boys".
South Wales Police referred their dealing with Ms Rosser's case to the Independent Office for Police Conduct (IOPC) for an investigation.
After her death, her family issued a statement saying Ms Rosser had "faced many challenges" and they hoped she was "now at peace".
They also thanked people in area for "all the support they provided to Denise over the years".
In a separate family statement read to the court on Thursday, they urged domestic abuse victims to "speak out however hard it may seem and seek help before it's too late".
During sentencing, Judge Eleri Rees QC said Ms Rosser, who weighed six stones, was "vulnerable because of dependence on alcohol and unable to defend herself" as Winstone was much bigger.
"We will never know the full story but she must have suffered excruciating pain that night," the judge said.
If you, or someone you know, have been affected by domestic abuse or violence, the following organisations may be able to help. If you are in immediate danger, you should dial 999.