Simon Winstone jailed for partner Denise Rosser's murder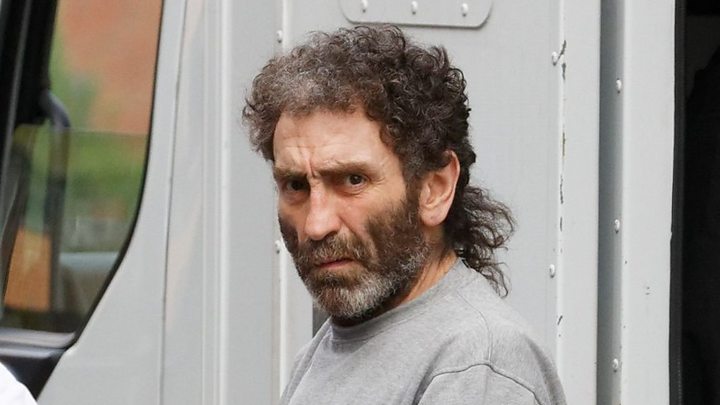 A murder victim was beaten so badly her injuries were compared to those sustained in a car crash, a judge said.
Simon Winstone was ordered to serve at least 18 years in jail for killing partner Michelle "Denise" Rosser, 38.
Ms Rosser had suffered head and chest injuries including 28 rib fractures, Merthyr Tydfil Crown Court heard.
Judge Eleri Rees QC said she had been beaten over several hours. A family statement read to the court urged domestic abuse victims to seek help.
Winstone, 50, had denied murder but he was sentenced after being convicted by a jury at his trial on Tuesday.
He claimed someone else killed Ms Rosser as he slept in the same room at her home in Bedlinog, Merthyr Tydfil, on 29 May.
When asked to explain her facial injuries, Winstone told police: "They were friction burns from the carpet when we were having sex last night."
The day before he murdered her, he was seen pushing Ms Rosser into a bin and locking her out of her house, the trial was told.
Neighbours had heard the couple "screaming and yelling" at each other and the court was told the pair had a "turbulent" and "volatile" relationship.
Winstone showed no reaction in the dock as he was sentenced to life imprisonment with a minimum 18-year jail term.
Judge Eleri Rees QC told him: "Denise's injuries were compared to those that could have been sustained in a car crash.
"This was clearly a number of assaults over a number of hours.
"We will never know the full story but she must have suffered excruciating pain that night."
The judge said she was only 5ft 2in (1.57m), weighed six stone and was "vulnerable because of dependence on alcohol and unable to defend herself" through their difference in stature.
A family statement from Ms Rosser's stepmother, Wendy, was read to the court in which they said her death in "such sad circumstances has impacted on us all".
"Having to come to terms with hearing about the life she led and suffered at the hands of Simon Winstone has been distressing," she said.
"We want to say anyone who is a victim of domestic violence should speak out however hard it may seem and seek help before it's too late.
"We loved Denise very much, no matter what. She was strong willed and made things difficult at times but she could often be loveable and cheeky."
'Unimaginable cruelty'
Ms Rosser lost the sight in her right eye after an attack by three men several years ago.
After the court case, Det Chief Insp Stuart Wales, who led the South Wales Police investigation, said Ms Rosser "suffered unimaginable cruelty at the hands of Winstone.... behind closed doors and even in public".
He said the "horrific injuries" inflicted were among the "worst that I and my colleagues have encountered".
And he thanked members of the Bedlinog community who gave evidence in the trial because they "helped to get justice for Denise and her family by ensuring that Simon Winstone pays for his abhorrent actions with his freedom".
If you, or someone you know, have been affected by domestic abuse or violence, the following organisations may be able to help. If you are in immediate danger, you should dial 999.