Swansea University chair quits innovations firm board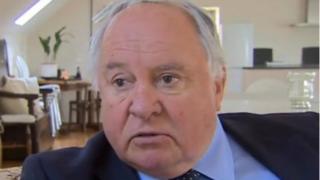 The chair of Swansea University's governing body has resigned from a company of which he had been a co-director with a suspended academic.
It is the latest development at the top level of the university following the suspension of staff.
Sir Roger Jones was a director of university-owned Swansea Innovations until Tuesday.
A university spokeswoman said Sir Roger had been "discussing for some time his decision to step down from Swansea Innovations".
She added: "This is wholly unconnected to our current ongoing internal enquiry."
School of Management Dean, Professor Marc Clement, who has been suspended, is still a director of the company.
As well as Prof Clement, the Vice-Chancellor Professor Richard Davies, and two other members of staff, were suspended last week.
The university has not revealed the reason for the suspensions, but said the matters being looked into did not concern "the academic performance of the university or its financial wellbeing".
Prof Clement joined Swansea Innovations' board in 2013.
He was appointed to the vice-president role at Swansea University in 2014.
The academic was then made the dean of the university's School of Management in October 2015.
Sir Roger, the longstanding chair of the university council, joined Swansea Innovations in March 2015.
Questions
BBC Wales has asked Swansea University about Sir Roger's involvement in Prof Clement's appointments as a vice-president and as the school of management dean.
After the university declined to comment, we asked under the Freedom of Information Act and are awaiting a response.
Sir Roger's resignation from the company on December 4 came after Prof Clement's suspension and questions from BBC Wales.
Both had also served on the board of Swansea Innovations previously - Prof Clement between 2000 and 2008, and Sir Roger between 2007 and 2008.
The company made profits after tax of almost £40,000 in 2017 and £538,000 in 2016.
BBC Wales has asked Swansea University whether directors have benefitted financially from the company and why Sir Roger has resigned.
Sir Roger and Prof Clement have been contacted for comment.