Flintshire garden waste charge raises nearly £1m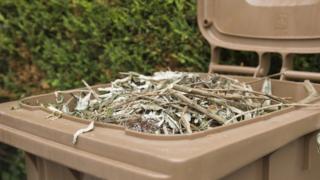 A council's charge to residents for collecting garden waste has raised nearly £1m this year.
Despite opposition, more than 40% of Flintshire households signed up to pay £30 a year for collections once a fortnight between March and November.
A report to the environment scrutiny committee said this had raised £966,000 compared to a target of £800,000.
Council bosses have ruled out discounts for people on benefits saying it would add to the scheme's running costs.
The charge for brown bin collections was introduced in April, despite criticism from some councillors who claimed the scheme did not consider the impact on elderly and vulnerable people.
Members will be urged to maintain the flat fee of £30 per bin for 2019 when they consider the report by streetscene chief officer Steve Jones on Tuesday.
Revealing that the income target had been exceeded, he suggested investing some of the extra funds in a smart system which saves money by registering a bin to a property without the need to send out stickers each year.
The authority had considered a discount for people on benefits, but decided it would not be appropriate, according to the Local Democracy Reporting Service.
Mr Jones said discounts would be difficult to introduce "without passing additional costs onto other non-eligible residents".
"The management of such a system would be costly and time-consuming in carrying out checks and monitoring any changes in circumstances," he added.
Residents who do not sign up for brown bin collections have the option of taking their garden waste to one of Flintshire's six household recycling centres, which are open throughout the year.