Laugharne homes plan rejection overturned on appeal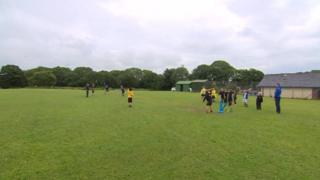 Controversial plans to build 42 homes in Carmarthenshire can go ahead, a government inspector has said, despite being rejected by the county council.
More than 300 people signed a petition against the scheme next to the sports field in Laugharne.
They complained that community benefits previously promised had been dropped.
Planning inspector Sian Worden backed an appeal by the applicants, saying the site was now judged suitable for housing without any extra conditions.
She added the playing field would still be leased to the local sports club.
The rejection of the scheme in April followed a row over the lack of community benefits, which had been agreed when the original plans were granted permission in 2008.
These included giving ownership of the rugby and cricket fields to Laugharne Athletic Club, and the donation of land to build a footpath to nearby Broadway,
The inspector's report noted since the original permission expired in 2013, the site had been allocated for housing in the local development plan adopted in 2014, without any additional requirements.
Ms Worden ruled that "the previous community benefits package, which was agreed prior to the appeal site's identification as a housing allocation in the development plan ... would not be a legitimate reason for granting planning permission".
"Its absence, therefore, is not a reason to refuse planning permission," she said.
The inspector added applicants Paul and Bethan Thomas had agreed to deliver affordable housing, education and highway improvements requested by the council.
Carmarthenshire County Council has been ordered to pay the costs of the appeal.
Alun Lenny, who chairs the authority's planning committee, said it was a "very complex and difficult application".
"I can understand the outrage of many local people who felt that the developer had reneged on the original agreement," he said.
"The majority of the planning committee members agreed, and voted against officers' recommendation to grant planning permission.
"Ultimately, we'd inherited a situation from ten years ago and had to make a very difficult decision."