Cardiff bar manager choked by colleague wins tribunal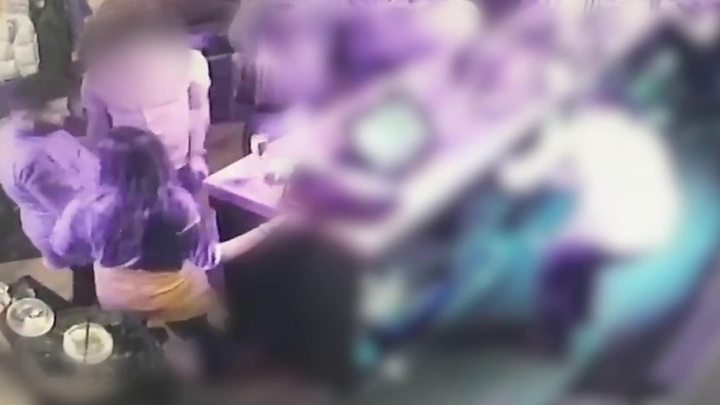 A bar manager choked by a chef at their work Christmas party has won a battle for unfair dismissal after finding CCTV footage of the incident.
Molly Phillips, 24, passed out after she was gripped by Nathan Webb, 33, at the Cameo Club in Roath, Cardiff.
She was taken to hospital to get checked for a suspected stroke, and had no recollection of what happened.
A tribunal at Cardiff Magistrates' Court was told when she checked CCTV, she saw herself being choked.
Miss Phillips told company directors about the attack, but claims they dismissed her complaints and continued employing Mr Webb, the hearing was told.
She brought an unfair dismissal claim against Pontcanna Pub Company Ltd, saying she felt unsafe and had to resign.
"It wasn't until I watched the CCTV properly that I realised what had happened," she told the tribunal.
"Nathan Webb puts his arms around my neck, pulls it tighter with his fists clenched, and despite my trying to push him off me, he doesn't let go.
"I then pass out in his arms, he then drops me and I smash my head against a fridge, and he is laughing the whole time."
Miss Phillips went to hospital the following day, and was told her injuries, including her mouth sloping, "were either caused by lack of oxygen or nerve damage", the hearing was told.
She spoke to directors Jason Pearce and Huw Davies but claims that the incident was "forgotten about."
"I was in tears to Huw telling him that I just didn't feel comfortable in work anymore, but I was given the same response over and over, that he couldn't 'wave a magic wand and fix everything'," she told the tribunal.
She reported the incident to police in March, and Mr Webb was arrested in May. She resigned later that month.
In a statement Mr Davies said: "At every stage we met with Molly and asked her what she wanted us to do. However, Molly was insistent that she didn't want us to take any action against Nathan.
"Everything we did or didn't do was with Molly's complete agreement."
The tribunal heard Mr Webb was still employed at Cameo Club.
Judge Alison Frazer said Miss Phillips "was constructively unfairly dismissed".
"The CCTV evidence showed that Mr Webb had her in a hold which caused her to fall to the floor," she said.
"I find that from April onwards, Mr Davies acted in a way which was dismissive of the claimant's feelings about the incident. He told her to 'get over it'."
She added that Mr Davies denied that Miss Phillips had been choked.
Miss Phillips is now expected to negotiate with the company for compensation.
South Wales Police said an investigation was ongoing.