Gift of 'bedraggled' Port Talbot Christmas tree criticised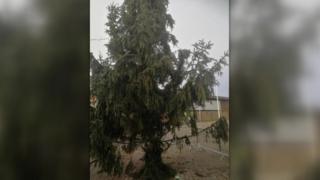 People living in Port Talbot have been urged to accept a slightly "bedraggled" looking Christmas tree.
The tree was one of two donated by a well-wishing local couple as part of attempts to save money.
In recent years the town's festive decorations have been organised by Aberavon RFC and funded by donations from the public.
Neath Port Talbot council said it had not had the funding to organise decorations in the town for many years.
Councillor Charlotte Galsworthy, who helped to organise the tree, said she'd been horrified by criticism online.
"Life isn't perfect for any of us and neither is this tree, but so what?" she said.
"I want people to accept this tree, because it's our tree, one of our own.
"If people have a problem with it, then they should join in with our attempts to make it better.
"This tree is about bringing a community together and it hasn't cost the tax payer a penny."
She said the tree had been donated by a local businessman and his wife, who had cut it down after hearing of a fundraising campaign for residents to buy their own.
"With all the cuts, councils couldn't afford to buy trees anymore. I don't think a lot of people here know that," she said.
"This was a goodwill gesture, but I've been really upset with all the criticism."
The couple cut down two identical trees on their land before donating them, with the other ending up outside Cwmavon Library.
Aberavon Rugby Football Club, which organises the town's tree and lights, said those involved had worked hard to help ensure Port Talbot wasn't left without decorations.