Illegal parking 'a danger to Ysgol Llanllyfni pupils'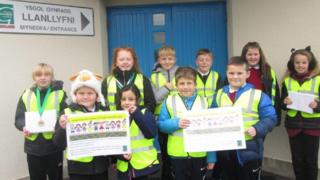 Children have urged motorists to stop parking illegally near their school.
Pupils at Ysgol Llanllyfni in Gwynedd have made signs and delivered letters to neighbouring houses warning drivers about how flouting parking rules risks their safety.
Head teacher Geraint Jones said pupils are encouraged to walk to school for their health and the environment.
But he said irresponsible parking is making those efforts dangerous as children cannot see oncoming traffic.
"When they get to the road leading up to the school it can be dangerous for them to cross because there are cars parked where they shouldn't be," Mr Jones added.
"This is especially dangerous for children. They may be too short for motorists to see them if they have to cross between two parked cars - and the children may not be able to see oncoming traffic."
Gwynedd council's parking enforcement manager Gwenan Huws Tomos said anyone who parked on the yellow lines was breaking the law.
He added: "Unfortunately, the traffic wardens cannot be everywhere at once so we are pleading to people's common sense and asking them to be more aware of where they are parking and the effect it can have on other road users."