Exhibition marks Mountain Ash Paul Robeson concert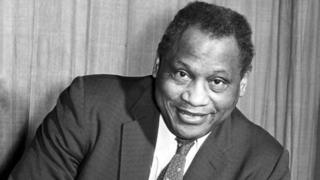 The 80th anniversary of a concert featuring singer and civil rights activist Paul Robeson is being marked with an exhibition.
Miners joined the "Jay-Z of his day" to play to a crowd of 7,000 in 1938, paying tribute to 33 Welsh men who died during the Spanish Civil War.
They welcomed home a contingent of the International Brigade.
"Let Paul Robeson Sing!" will be on display in the Mountain Ash Workingmen's Club.
Showcasing photos, news clippings and personal recollections gathered by the Paul Robeson Wales Trust and the South Wales Miners' Library, the celebration will also feature performances by Cwmbach male voice choir, who sang with Robeson in the early 1960s, and folk singer Martin Joseph.
But the concert was just one small part of Robeson's incredible connection to Wales.
Michael Ward of Swansea University, who is from Mountain Ash in Rhondda Cynon Taff, said: "As I've been handing out flyers and talking to people about the anniversary, it struck me how little people in Mountain Ash know about Paul Robeson and his connection with the town.
"In some ways it's never been more relevant; in 1938 we were recovering from the Great Depression and staring at the spectre of war, but Paul Robeson's appearance created a sense of hope and togetherness which 2018 Mountain Ash could really do with.
"I've been giving talks to schoolchildren, and it's difficult to put into context just how significant an event this was. The closest I could come up with was asking them to imagine if Jay-Z came to Mountain Ash to perform a concert."
By the time of his concert Robeson had already been an unlikely friend of Wales for more than a decade.
While starring in the 1927 West End production of Show Boat, he met a group of south Wales miners who had embarked on a gruelling hunger-march to London to highlight their plight.
In the years which followed this meeting he worked tirelessly to publicise the conditions in which Welsh miners worked and lived, and gave performances across the country in support of various causes.
His love affair with Wales culminated in 1940, when he starred in, and heavily influenced the script of, "Proud Valley", a film telling the story of a black labourer who moves to the Rhondda Valley and wins over the hearts of the locals.
Dr Ward said: "After meeting the south Wales miners he began to realise that the struggle in Wales was just the same as his back in America. It wasn't really about race, the battle facing oppressed people was the same the world over."
However, as the Cold War gathered strength, Robeson's outspoken support for socialism, race equality and anti-colonialism sparked a 25-year investigation into him by J. Edgar Hoover's FBI, as well as Britain's MI6.
In 1950, at the height of McCarthyism, he had his passport withdrawn for eight years, owing to his alleged anti-American activities.
If anything this only enhanced his global support, particularly in Wales where a "Let Paul Robeson Sing" campaign quickly gathered strength.
Still barred from international travel, Robeson sang "Didn't My Lord Deliver Daniel?" for the 1957 Miners' Eisteddfod in Porthcawl, via a trans-Atlantic telephone link from a studio in New York.
Dr Ward said: "Before Rosa Parks, Martin Luther King or Malcolm X there was Paul Robeson - who used his fame and influence to stand up for civil rights and fight for a fairer society.
"In some ways his connection with Wales was the start of it all."
"Let Paul Robeson Sing!" will be on display in the Mountain Ash Workingmen's Club on Friday and Saturday before moving to the Cynon Valley Museum until the end of the month.