Christmas tree fire wrecks Swansea family home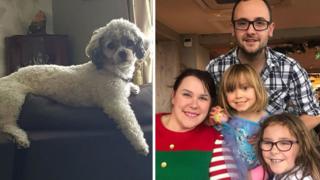 A family's home has been damaged by a blaze which started when their Christmas tree that was decorated with electric lights caught fire.
Nicola Jackson, 33, praised pet dog Bella for alerting her as the fire broke out while she, husband Bradley, 32, and their two children were asleep.
She said it could be weeks before they can return to their home in Morriston, Swansea, so they have moved to a hotel.
She said her daughters Nia and Eva asked: "Will Santa still visit?"
"It just breaks my heart," she said. "We should be having a normal Christmas like most families."
Mid and West Wales Fire and Rescue Service confirmed the fire started on the tree.
Station manager Richard Felton said he wanted to warn the public that "the Christmas season brings its own fire risks".
Ms Jackson, who runs a play centre business, said the blaze broke out just days after they had decorated their 6ft (1.80m) tree.
When she went downstairs to investigate the dog's barking she was confronted by smoke and flames billowing from the living room.
She ran upstairs to rescue her daughters before taking them outside and returned to look for her husband who had been asleep on the sofa.
"I was crying and screaming but I had to go back in even though it was a stupid decision," she said.
"I have had so many messages of support. People have bought us clothes and food but I don't know how to say thank you.
"I've never been in this situation where people are helping me on such a big scale."