Barry homebuyers 'can still move in despite enforcement action'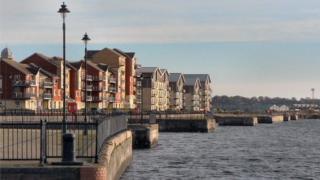 People in the process of buying homes on Barry Waterfront will still be able to move in, despite developers being hit with enforcement action.
The Vale of Glamorgan council has issued a planning enforcement notice as proposed shops have not been built in part of the docklands redevelopment.
No properties in South Quay Parkside should have been occupied until the "district centre" units were delivered.
But councillor Jonathan Bird said homebuyers would not be affected.
The formal Breach of Planning Condition Enforcement Notice was served by the council to the consortium, made up of Taylor Wimpey, Barratt and Persimmon, on Monday to stop the sale or building of any more homes.
It follows a temporary stop notice served on 23 November which banned the occupation of new homes for 28 days.
The district centre of shops, restaurants and cafes was due to be completed in 2017 but has yet to be built, according to the Local Democracy Reporting Service.
Housebuilders at Barry Waterfront have already exchanged contracts on a number of properties which are due to complete in the coming weeks.
They have also promised pre-Christmas completion dates on a number of other properties where contracts have yet to be exchanged.
All of this would be in breach of the stop notice.
Mr Bird, the cabinet member for planning, said: "We are aware that there are customers due to move into their new homes before Christmas.
"While they should never have been sold these properties, we have no desire to make what is already a stressful time for them any more difficult.
"No action will be taken against these individual occupiers if they move into their new homes."
The developers have said they are committed to delivering the district centre and have been in talks with the council to address the situation.