Port Talbot pupils taken to hospital after being pricked by diabetes kit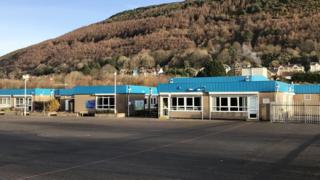 Fourteen school pupils were taken to hospital after being pricked by a diabetes testing kit.
One parent said the device was taken from a teacher's desk at St Joseph's Junior School in Port Talbot.
Head teacher Caroline May apologised and said the school was "reviewing procedures".
The device was not returned to its usual place of storage before it was used by the pupils, according to the school.
The pupils were taken straight to Neath Port Talbot hospital by staff after the incident last Tuesday, before going to Morriston Hospital.
Andy Macnab, emergency medicine consultant at Morriston Hospital, said doctors had made arrangements to "see each of the children and offer them appropriate advice and treatment".
Mrs May said one pupil needed to be constantly monitored by the kit, which is used to test blood sugar levels by piercing the skin on a finger or thumb.
Only a drop of blood is produced by the kit, and it is not used for injections.
Mrs May said: "The school would again like to express its sincere apologies to all pupils involved.
"All 14 pupils involved have been assessed by medical professionals and we have had reassurances that there is no further cause for concern.
"The incident was not solely the actions of one pupil, but involved a group of friends.
"The school has since met with the parents of these pupils to discuss the issue and is reviewing its procedures around pupils who need to self-medicate to mitigate any future risks of such an incident reoccurring."