Swansea council looks for tidal lagoon partners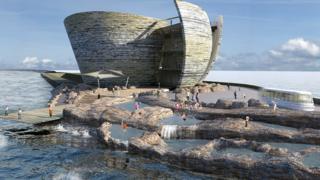 A bid to kick-start the tidal lagoon project has been launched by Swansea council.
It has advertised for private sector partners to help it develop the energy project in Swansea Bay.
It described it as a "once in a generation opportunity to deliver a major strategic asset" for south west Wales.
Plans for a £1.3bn project were rejected in June by the UK government as not being value for money.
The decision was criticised by local politicians across the parties, including the Conservatives.
But the UK government said it would not pay developers Tidal Lagoon Power (TLP) the fee it wanted for energy.
This would be just for Swansea and not a network of lagoons around the coast envisaged by TLP.
The council said the project would evaluate commercial proposals for a reformatted development to operate without any subsidy, unlike the proposals put forward by TLP.
The partners would work on detailed planning , design and licensing.
Swansea council leader Rob Stewart told BBC Wales the building, funding and operating of the new tidal lagoon project would be very different from the proposals put forward by TLP in 2011.
He said it needed to be more attractive to investors and must have a quicker return on investment.
Mr Stewart added that it would be a Welsh project without UK government involvement.
"I have said that the lagoon project is not dead," he said. "We are well into the procurement to secure new partners to deliver it and expect to announce further details in the next couple of weeks."
Because the proposed project would just involve a lagoon for Swansea Bay and generate a smaller amount of electricity each year than the original proposals, permission could be granted by the Welsh Government.
Swansea council said that the Welsh Government was prepared to consider substantial co-investment alongside a private sector partner.
The previous proposal included the Welsh Government offering £200m in return for a stake or loan.
Mr Stewart said he understands that is still on the table if a new viable proposition is put forward.
The proposals say that councils in the Swansea Bay City region would investigate whether the public sector in the area would be able to get its electricity directly from the lagoon.
The advert from Swansea Council for expressions of interest is on the Welsh Government's Sell2Wales website with a 7 December closing date.
The Welsh Government has been asked to comment.