Foel Penolau: How a Welsh hill became a mountain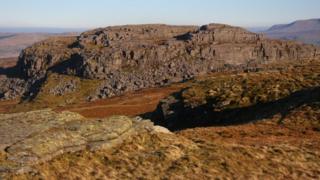 Two Welshmen went up a hill, but came down a mountain.
That's because Myrddyn Phillips and Aled Williams are surveyors who found a Snowdonia hill was in fact a mountain.
While Foel Penolau is over the 2,000ft (609.6m) required to be a mountain, the minimum drop between the col - the lowest point on a ridge between two peaks - and summit was under 98ft.
The pair have found that the drop has now increased to 104.6ft, and is therefore a mountain.
As a result of the survey, Foel Penolau has been included in the list of Hewitts - hills in England, Wales or Ireland over 2,000ft high which have a minimum drop of 98ft.
Foel Penolau, in the northern Rhinogydd range, was previously classified as a hill because there was just 85ft (26m) of drop from col to summit.
Col is a French word used universally to refer to the lowest point on a mountain ridge between two peaks. The feature is called a bwlch in Welsh, or a saddle in English.
Mr Phillips and Mr Williams suspected the drop at Foel Penolau might have changed because the col is made up of a large boulder field liable to movements.
"It is one of the many ridges I and colleagues measured over many years - it is a fantastic ridge," said Mr Phillips, 57, a mountain surveyor and blogger from Welshpool.
In August, Fan y Big in the Brecon Beacons was downgraded to a hill after Mr Myrddin measured its col to summit height at 93.5ft.
Previously mountain heights were recorded by a process called photogrammetry, which involved flying over and taking measurements of the distance to the land below.
Mr Phillips explained that the device he uses, a Trimble GeoXH 6000, has a margin of error of just 4in (10cm) compared with 9.8ft (3m) for the older process.
But the decision to measure Foel Penolau came from good old-fashioned gut instinct.
"We had an inkling. It is one we have wondered about for a few years but you never know until the results come in," he said.
"But everything tied up so nicely and all matched. It is a stunning mountain, and one of the best in Wales in my opinion."
Wales now has 136 Hewitts and it is the first time a Welsh hill has entered the classification due to its drop value since the list was first published in 1992.