Conwy 'retirement area' pressure on care service claim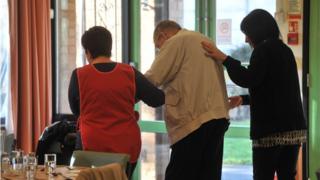 A social care crisis may force a council to look at how long people have lived locally when considering support, Labour councillors have said.
Conwy's social services are facing an overspend of £3m on a budget of £60m, the finance scrutiny committee heard.
Former cabinet member Chris Hughes said Conwy was now a place people went to retire, while ex-deputy leader Ronnie Hughes hinted at priority for locals.
A task group has been set up to look at pressures on care services.
A report to the committee on Monday heard that the overspending on social care had increased by £500,000 from the last report made in October, according to the Local Democracy Reporting Service.
Services for older people accounted for £300,000 of the latest increase and the children's section made up the remainder.
Councillor Ronnie Hughes said: "We've got to change things. We can't sustain this. We cannot keep going and bailing it out. We need new ideas.
"We should look at how long people have lived here and paid council tax. That's just one of the ideas I'm throwing about but, at the end of the day, all members have got to think about the future."
He also urged the Betsi Cadwaladr health board to help the council, saying: "Our work with the elderly is preventing bed-blocking and there should be some kind of contribution from the health service."
Councillor Chris Hughes, a former cabinet member for social care, claimed an influx of older people moving to the north Wales coast to retire was putting pressure on social services.
"You've got some developers that only seem to build older people's accommodation and people move into our area," he said.
"We're seeing massive increases in older people coming to an area which doesn't have the infrastructure to support that.
"If we continue to focus on Conwy being a retirement area we will continue to develop more and more problems."