Cleared TB farmer demands UK government compensation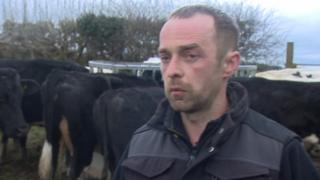 A farmer cleared of tampering with bovine TB tests is demanding the UK government now compensate him for "devastating" losses.
Hefin Owen said the case had cost him £250,000 and he had lost his milking business completely.
The dairy farmer, from Newcastle Emlyn, Ceredigion, was found not guilty of all charges by a court in April.
The Department for Environment, Food and Rural Affairs (Defra) said it would not comment on the farmer's claim.
Animal health inspectors ordered that 30 cows were slaughtered in 2016 after tests for tuberculosis at Mr Owen's farm.
He was then accused of tampering to force the positive TB test result in the dairy herd. Positive results can trigger compensation payments for lost livestock.
The Animal and Plant Health Agency (APHA), which is part of Defra, flagged their allegations to Ceredigion council, which then prosecuted Mr Owen.
But he was cleared at Aberystwyth County Court of any wrongdoing, in a case his legal team described as "circumstantial".
"There wasn't any evidence to take it to court," Mr Owen told BBC Radio Wales.
"It was devastating for us - especially for the business. We were struggling to carry on.
"They left us without hardly any income really."
The farmer said he had to sell the remaining dairy cattle and his milking parlour to cover mounting debts following the legal action.
But despite being cleared of any crime, he said he has received no compensation for either the culled cattle or the loss of business.
Mr Owen said the government agencies had "just left us out to dry".
His family now hope to crowd-source about £100,000 needed to pursue Defra through the courts.
"We are trying to build a case to take them back to court to make them accountable for what they have done," Mr Owen added.
Following the unsuccessful prosecution in April, Ceredigion council said it been acting in the public interest on the basis of allegations brought by APHA, and accepted the not guilty judgement.
"The council accepts the judgement made by the court," a Ceredigion council statement read.
"But acknowledges that the judge ruled that the defence costs would be met from central funds. No costs were awarded against the council."