Vintage 1930s Woolworths Christmas tree auctioned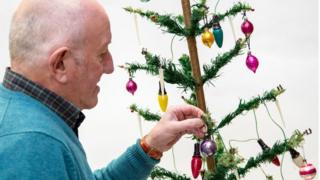 One of the first mass-produced Christmas trees will be auctioned after staying in one family for 80 years.
Steve Rose, 74, remembers his parents decorating the 1937 tree from Woolworths every year in their Markham, Caerphilly home and maintained the tradition after they died.
But Mr Rose feels it is time to say goodbye and give someone else the chance to create a simple, vintage Christmas.
It will be auctioned in Staffordshire.
The tree, being sold alongside Mr Rose's lights and baubles, has an estimate of £200-300, but a similar item sold last year without any decorations for £420.
Retired biology teacher Mr Rose, the only son of a miner, is parting with his heirlooms because he has no children to leave them to.
"It was our main family tree for years and I remember my mum putting it up every Christmas," he said.
"Christmas was not an extravagant affair... in the late 1940s you'd get a Christmas sock and inside it was a tangerine, nuts, some loose change and small presents.
"It was very simple but enjoyable. On Christmas Day we had a chicken from the lady at the back of our house who bred them.
"I think we enjoyed Christmas more back then. Because we didn't have much, we valued what we did have."
Mr Rose, who has lived in Leicestershire for more than 50 years, hopes the tree will find an "exciting new home" and "puts a sparkle into Christmas for generations to come."
Department store Woolworths started selling some of the first mass-produced artificial trees in the 1920s and in 1930, the Addis Housewares Company created the first made from brush bristles.
Charles Hanson, owner of Hansons Auctioneers who are selling the tree, said: "Nearly a century after it was made, this tree deserves to be an evergreen star in our saleroom."