'Shortcomings' in half of Welsh secondary schools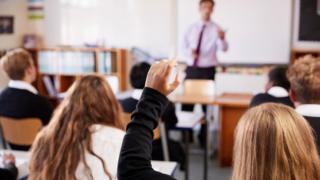 The school reports are in - and it is a case of "could do better" for Wales' secondaries, according to inspectors Estyn.
The education body said only half of secondary schools were judged good or excellent.
Wales' Chief Inspector of Schools Meilyr Rowlands said those schools "causing concern" needed more help.
But Estyn's annual report said it had seen "encouraging" improvements in primary schools.
The Welsh Government said the challenge was to ensure that schools needing additional support were "identified at an earlier stage".
Eight out of 10 primary schools which were assessed were rated good or better.
Estyn's annual report, based on a round-up of school inspections carried out in the 2017-18 academic year, said that the proportion of primary schools judged as excellent had doubled since last year, from 4% to 8%.
But the proportion of secondary schools judged to be good or better remained the same.
The analysis also found pupils do not develop knowledge and skills well enough or make enough progress in about half of secondary schools.
The report said that in half of secondary schools:
There are shortcomings in teaching and assessment
Leadership is inconsistent
The majority of pupils do not achieve in line with their abilities by the time they reach the end of compulsory schooling
At secondary level, 13 of the 27 schools inspected in 2017-18 needed some level of follow-up action from Estyn, including two that were placed in special measures.
Mr Rowlands said there was "a lot of good things we should be proud of in the education system in Wales".
But, he added: "There are schools that cause us concern and I think it is important we tackle those schools in particular.
"We need to think what more we can do about those schools, what we can do to identify them earlier."
Paul Davies, an education authority governor in Pontypool, said using the same scale to judge all schools was "unfair" because it assumed all schools were starting from the same level.
"Making improvement is more challenging in some schools than others, and in some areas than others," he said.
"That's not making excuses, it's just schools are very different."
The Welsh Government said it was investing "record levels" to bring about "wholesale reform" in the way teachers in Wales learn.
"The report shows that standards in our schools are continuing to improve and that our new professional standards, together with a focus on the new curriculum, are helping to improve teaching and learning," a spokesman said.
"The challenge now is to ensure that schools that need additional support are identified at an earlier stage."
Mr Rowlands said he expected a step-change in standards once the new curriculum had been rolled out from 2022.
However Prof David Reynolds, a former education advisor to both the UK and Welsh Government, said he was concerned at the strain that would place on schools.
"We are facing problems because we are introducing a new curriculum at the same time as expecting schools to really focus on getting every student the maximum possible results," he said.
"Doing one of those things would stretch a school system. But doing both at the same time, in a system that's not all that wonderful by international standards, worries me."