White-fronted geese ban in Wales 'unnecessary meddling'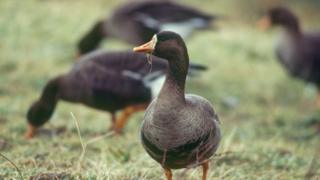 A ban on hunting rare white-fronted geese in Wales has been called "unnecessary meddling" by campaigners.
The Countryside Alliance said the Welsh Government's decision to bring the ban into force in 2019 will not address the poor breeding success of the bird.
Two years ago, ministers said there was no evidence the birds were being shot but changed their position after groups such as the RSPB complained.
Those groups have welcomed the ban to protect the population.
In 2017, there were just 20,550 Greenland white-fronted geese in the world. They do not breed in the UK but visit in the winter.
Last year, the RSPB estimated the birds' population at its Ynyshir reserve near Machynlleth, Powys, had dropped by 83% since 1990.
It was worried a temporary ban on wildfowlers shooting the birds did not cover those shooting outside of clubs
Welsh Government environment minister Hannah Blythyn, said up until now the voluntary halt on shooting the geese had been "working effectively" in Wales
But African-Eurasian Migratory Waterbirds committee said a voluntary ban was "insufficient" to meet the UK's legal obligations.
The RSPB said the full ban would meet Wales' international commitments under the African Eurasian Migratory Waterbirds Agreement (AEWA).
But Countryside Alliance Wales' director, Rachel Evans, said: "The move has disappointed wildfowlers who have been working diligently to conserve the species while adhering to the moratorium (a temporary ban).
"AEWA's direct action will have no impact on the species future in Wales, and is simply unnecessary meddling from the international organisation.
"What they should be concentrating on is the root of the problem which is the poor breeding success of the bird."
Mick Green, chairman of the Welsh Ornithological Society "welcomed" the ban.
He added: "Recent research published in WOS peer reviewed journal Birds in Wales show they can spend a lot of time on areas not controlled by wildfowlers and therefore are vulnerable to being shot legally.
"This ban is part of efforts by a wide range organisations to try and halt the decline."
A ban is also expected to come into force in England.