Freshwater West car-jacking: Man slashed in face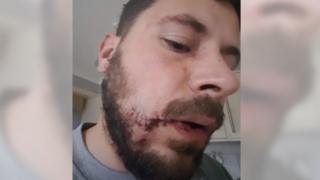 A man was slashed in the face with a blade in an attempted car-jacking close to a Welsh beauty spot.
Wayne Edge suffered a lacerated cheek after thieves tried to steal his car as he drove along a remote road past Freshwater West, Pembrokeshire.
The attack took place at the junction of the B4319 and the B4320 Angle to Pembroke Road on Friday at around 17:45 GMT.
Dyfed-Powys Police is appealing for information.
Mr Edge, 32, said a man stood in the road before a second man smashed his window and tried to take his keys.
When they could not get them, he said he was slashed across the face.
He said: "I keep getting bouts of shakes and have trouble sleeping. When it all happened my mind was just blank so I guess I've just been in shock.
"But looking back on it and thinking how lucky I am and that I'm still here with my family is the positive I've got to hang on to."