Abermule recycling site opponents can suggest other sites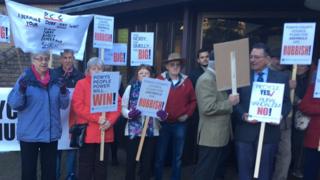 Villagers opposed to plans to build a waste recycling centre in their community can recommend an alternative location, council leaders have said.
The facility in Abermule, Powys, will be used to process domestic recycling, such as glass, cans and food waste.
But residents fear an increase in traffic and noise will spoil the area.
Powys cabinet members and officers told a packed public meeting in the village the county needed to meet recycling targets of 70% by 2024/25.
The council's director of environment Nigel Brinn told residents on Tuesday that the site on an enterprise park had been earmarked for recycling ever since it was bought from the Welsh Government.
Phyl Davies, the cabinet member responsible for recycling, said: "We are committed to this project and need to build a facility in a suitable location and we believe this is a suitable location."
But he added: "If this community can find a similar alternative location and suitable access, that would come on budget and in a timely manner, then we will listen to that."
Powys council leader Rosemarie Harris confirmed that the authority was happy to continue discussions about alternative sites.
Following the meeting, Jeff Mathews from the campaign group Abermule Communities Together, said they had been given a "thin sliver of hope".
"We need to come up with another site. Not easy and we will work on it," he told the Local Democracy Reporting Service.
"The cabinet members now see the strength of feeling. They see that we will not give in.
"They are dealing with a whole village with hundreds of involved passionate people.
"We will work at this."