Woman's plea to Home Office over Uzbekistan funeral plans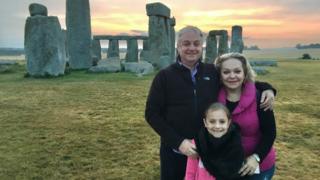 A woman is facing a desperate wait for Home Office approval to go to her mother's funeral in Uzbekistan at the weekend and be able to return to Wales.
Mariya Kingston, 45, wanted to visit her mother when she was "very unwell" but a visa failed to materialise and her mother died last week.
Without written permission, there are concerns she may not be allowed back into the UK if she attends the funeral.
The Home Office said applications needed "sufficient scrutiny".
Mrs Kingston, an Uzbekistan citizen who is a qualified nurse but is not allowed to work, said: "I don't know what to do. I just ask, please help me.
"If I go, I can lose my children, my family here."
She married Richard 56, from Pontyclun, Rhondda Cynon Taff, in 2008 in Dubai where they lived and worked.
But they moved to Wales in 2017 and Mrs Kingston has been seeking permission for permanent residency since then.
An initial bid was rejected because Mr Kingston was deemed capable of raising their nine-year-old daughter Anna alone, and Mrs Kingston was advised to return to Uzbekistan to appeal against the decision, Mr Kingston said.
But that would have meant leaving her daughter and Mr Kingston behind for up to two years - which she was not prepared to do - and Mr Kingston would have to give up his job to care for Anna meaning they would then fail the income section of the application.
The couple's local MP, Owen Smith, who has taken up their case, said: "Mrs Kingston was assured that she'd be granted a visa to visit her mother in Uzbekistan who had been very unwell, however the Home Office have failed to fulfil their promise and have instead dragged their feet on Mrs Kingston's case since February 2017.
"Unfortunately Mrs Kingston's mother passed away on Friday and she is now facing the awful situation of waiting to hear if she can travel to Uzbekistan in time for the funeral."
He added he has asked the Home Secretary to intervene.
Mrs Kingston was initially given leave to stay in the UK on a family visa in 2016.
'Unavoidable delays'
She has been unable to visit her mother Nadejda Chernenok, who died last week after being diagnosed with cancer.
And she is still awaiting documentation to allow her to take a flight on Friday for the service on Saturday and then be allowed to return to the UK.
In Uzbekistan, the government only hold the body of the deceased for seven days so the funeral cannot be postponed.
Her husband said the situation made him "embarrassed to be British" and claimed the Home Office simply treats people "like a number" and policy was "to break families up".
"The Home Office can finish this this afternoon or tomorrow morning at the stroke of a pen.
"They don't care about the individual, the rights of the individual, the humanity that's involved."
A Home Office spokesperson said it tried to process all visa applications quickly but, in some cases, "complex circumstances can lead to unavoidable delays - but it is important that applications are subject to sufficient scrutiny".