Discharged mental health patient 'stuck' in locked unit for a year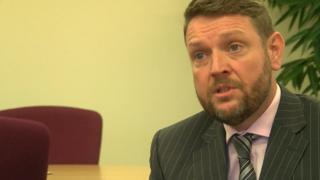 A vulnerable patient who was stuck in a mental health hospital's secure unit for almost a year had her human rights breached, a watchdog said.
Bureaucratic wrangles prevented "Ms A" from moving into supported accommodation after she had been declared well enough to leave hospital.
The woman, who said she was attacked while in the unit, complained to the Public Services Ombudsman for Wales.
Cardiff and Vale University Health Board has apologised.
"It is accepted that the discharge should not have taken such a long time," said a spokeswoman for the health board, which was responsible for her care.
Ms A was detained in Wales under the Mental Health Act but moved to a secure hospital in England in 2015 to be closer to her family and to allow a transition into the community where she wished to live.
'Suffered indignity'
When she was discharged in March 2016, the Community Mental Health Team (CMHT) in England would not accept a referral from the health board until Ms A was registered with a local GP, discharged from the hospital and living at a local address.
However, the supported living providers where she wanted to live would not accept a referral to assess Ms A for placement without prior local CMHT input.
Without an appropriate care package in place, the ombudsman said Ms A had agreed to stay in the hospital while it was arranged.
She remained in a locked rehabilitation ward with other patients until February 2017, when the health board funded a full inpatient service from the hospital, so Ms A could receive the right care to enable her to move to a flat she had found.
Ombudsman Nick Bennett upheld Ms A's complaints and said she had been caught in a "catch-22 situation", while the failure to provide appropriate care amounted to a breach of her human rights.
"Ms A suffered the indignity of remaining in a locked hospital with little option but to remain as a voluntary patient," he said.
"She was targeted by other patients, during her stay as an informal [voluntary] patient, and sadly the health board failed to provide her with a safe environment during this period."
The ombudsman said the "apparently inflexible and unhelpful stance taken by the trust and the CMHT" was partly to blame for the delay.
Mr Bennett also said he found it "particularly disheartening" that Ms A had been significantly let down by health services at a pivotal time in her mental health recovery.
The health board spokesman added: "We are ensuring that the recommendations for the health board are fully implemented to address the root causes of the delays."
Parliamentary and Health Service Ombudsman Rob Behrens said: "The NHS in England and Wales must work together to produce joint guidance on supporting vulnerable mental health patients who transfer from one country to another in the UK, to ensure this does not happen again."