Swansea University academic 'astounded' at suspension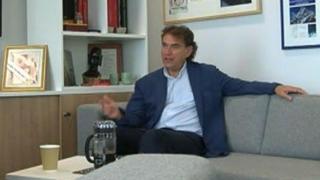 An email from lawyers acting for a senior Swansea University academic said he was "astounded" at being suspended.
Prof Marc Clement, head of the school of management, was suspended alongside Prof Richard Davies, who has been vice-chancellor since 2003, and two other staff members.
An internal investigation is under way but Prof Clement's lawyers have raised a formal grievance on his behalf.
A university spokesman said procedures had been carried out "correctly".
The university told staff on Monday about the suspensions but the nature of the allegations has not been revealed.
In an email they were told by registrar Andrew Rhodes that the matters being looked into did not concern "the academic performance of the university or its financial wellbeing".
Mr Rhodes is to take on vice-chancellor duties on an interim basis.
Prof Clement's lawyers have now sent an email to the university council - which has been seen by BBC Wales - in which they say their client believed events had been "deliberately contrived to damage him personally".
It added he "vehemently denies any wrongdoing" and will do "all it takes to clear his good name".
It alleged there was no attempt to discuss the allegations with Prof Clement prior to his suspension, of which he was notified on Friday.
A Swansea University spokesman said: "We have no comment to make relating to correspondence with council.
"However, we are satisfied that all procedures have been carried out robustly and correctly and in line with the university's statutes and ordinances."
Earlier, Swansea University confirmed the decision to suspend the vice-chancellor was made by the chair of the university's council.
The Higher Education Funding Council for Wales, the regulator for universities, said it was working with the university but could not give any further details.
The BBC has attempted to contact Prof Davies.