Recycling tip shops saving 'tonnes' of waste from landfill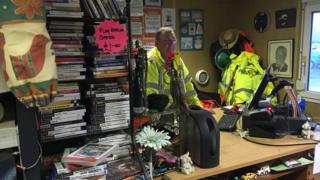 An increasing number of people are buying used goods at waste sites and dumps, according to people running so-called "tip shops".
A tip shop in Newport has seen its footfall double in the past year and sold 21 tonnes of goods in October, which could have ended up in landfill.
Another shop in Llantrisant, Rhondda Cynon Taff, has sold more than 50,000 items since April 2017.
Shops in Treherbet and Maesteg, Bridgend are set to open by March 2019.
Tip shops allow people to drop off goods at the refuse site, much like they would with a charity shop, rather than throwing unwanted goods straight in landfill.
Paula Perry, who runs "The Shed" at the Llantrisant site, said a growing number of people cannot afford to buy brand new goods, so are turning to tip shops.
"People who come in are buying toys ready to put away for Christmas, whereas they really perhaps couldn't afford them (from normal shops)," she said.
"The children are having items for Christmas perhaps they wouldn't have had before".
Nadine, who said she regularly visits the tip at Llantrisant, said she will be doing her Christmas shopping there.
She said: "We've had Avengers stuff for a pound, whereas if you buy them in the shop, you pay £40."
The 50,000 items the shop has sold in the last 18 months has diverted about 102 tonnes of goods away from landfill.
Phil Hurst from Wastesavers, which runs a tip shop in Newport, said the shops are a "growth industry".
He said footfall has doubled and 140 tonnes of waste has been sold since April 2018.
"In austere times this shop is a valuable resource," he said.
"People don't just want to throw stuff away, they would rather it go to a good home. We've seen a really big increase in the number of people coming here."
The group added there should be an ambition for a shop at every tip in Wales.