Abuse inquiry IICSA hears victims' compensation battles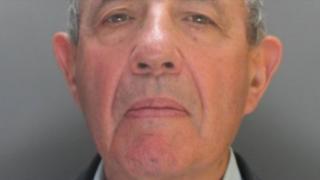 Victims have spoken of having to relive their traumatic experiences as they battled to get compensation against the children's home they were abused at.
The Independent Inquiry into Child Sexual Abuse (IICSA) in England and Wales has been investigating claims against local authorities, religious groups, armed forces and institutions.
Tuesday's hearing has focused on abuse at Bryn Alyn home in Wrexham.
Four victims said they had difficulties proving their cases.
The inquiry was set up by the UK government following the scandal of former BBC presenter Jimmy Savile when, following his death in 2011, hundreds of people came forward to say he had abused them as children.
The spotlight also fell on sexual assaults carried out in schools, children's homes and at NHS sites.
The inquiry has been hearing evidence from victims for more than a year and on Tuesday, four victims from Bryn Alyn took to the stand.
One said it was "cruel irony" that he received a fraction of the £375,000 compensation ex-North Wales Police superintendent Gordon Anglesea was awarded in libel damages in 1994 after media organisations ran stories about his links to abuse at children's homes.
But Anglesea was jailed for 12 years in 2016 after being convicted of indecent assault against two teenage boys in the 1980s. He died later that year.
Anglesea had links to John Allen, who owned Bryn Alyn. He was jailed for life in 2014 for abusing 18 boys and one girl in his care.
The victim, who said he was abused by Allen, told the inquiry: "I wanted justice. I wanted acceptance that these things went on."
His compensation claim was initially not accepted by Bryn Alyn's insurers and the case went to court which was a "traumatic process".
He won the case and was awarded what was described as a significant amount of money.
The insurers then discovered that they were not responsible for Bryn Alyn's cover at the time the witness was abused. He told the inquiry he then had to claim against a second insurer.
"It was hurtful that they were arguing amongst themselves," he said. "I just wanted it to end." He eventually settled for £27,000 - about half his original award.
A second witness, who was also abused at Bryn Alyn home, told the tribunal that giving evidence during a compensation trial was like being abused all over again.
In a statement read to the court the woman, known only as A23 said: "I had to relive it in intimate detail. I felt they were basically saying I was a liar."
She said her claim was heavily defended by the insurance company which made no admissions even though Allen had been convicted.
It was found that she had been abused but Bryn Alyn was not liable. She told the inquiry: "The judge told me that the award would have been £5,000. I thought that was disgusting."
'Didn't care'
She added no-one has apologised for what happened and an apology "would have been priceless and worth more than any sum of money".
"They didn't care. They didn't care about me in that abusive place and they don't care now," she said.
In a statement read to the inquiry another Bryn Alyn victim said he has had to live with the guilt and shame of what happened to him.
A fourth victim told the inquiry: "What we want is it recognised that this stuff happened and recognised that it didn't need to have happened."
He added: "The impact has been a life blighted by the abuse, more than the abuse itself."
The hearing continues.