Police facial recognition 'needs considerable investment'
"Considerable investment" is needed to get consistency from the police's use of facial recognition, according to a Cardiff University study.
South Wales Police has used automated facial recognition (AFR) technology at several events in Cardiff since the Champions League final in June 2017.
The study found the accuracy of AFR has improved since its introduction, but does worsen in bad light or big crowds.
Richard Lewis from the force said the report gave a "balanced perspective".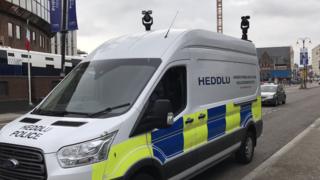 The technology compares scans of faces with online databases in order to identify possible people of interest to police.
It was first used in the city centre at the Champions League final in June 2017, but it led to more than 2,000 people being wrongly matched with possible criminals.
The Locate system, which scans faces on CCTV and checks them against a pre-selected database, was used in a small-scale field trial of the system. It was able correctly to identify a person 76% of the time.
But the system was found to freeze or lag when several faces were in the frame, and its accuracy was significantly affected if a person was wearing objects which obscured part of their face, such as glasses or a hat.
Another system, known as Identify, compares still images to a custody database, but 68% of submissions were not of sufficient quality for the system to work.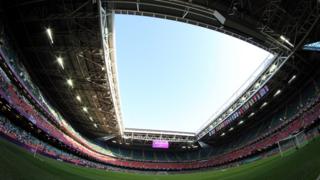 The report added the system should be thought of as assisted facial recognition software, rather than fully automated, as decision on whether a person is a match to a database photo is still made by police operators.
It also said AFR has enabled police to identify suspects "they would probably not otherwise have been able to do so" but "considerable investment and changes to police operating procedures" were required to improve consistency.

Analysis by BBC News Home Affairs Correspondent Danny Shaw:
This is arguably the most significant study yet into police use of facial recognition technology.
The system is clearly in the early stages of development and there are considerable problems with it.
But the potential benefits are obvious as well: It can assist police in looking for suspects and missing people and solving crimes.
The report suggests that at this stage, facial matching should be seen as an intelligence tool that directs police towards someone, rather than a definitive piece of evidence that the person highlighted by the cameras is the individual on the watch-list or database.
Fingerprint, CCTV and DNA techniques were piloted and trialled - and are now established pieces of police technology; facial matching might be one day too.
Prof Martin Innes, from the Police Science Institute at Cardiff University said the research aimed to provide "an evidence based and balanced account of the benefits, costs and challenges" of integrating the system.
Deputy chief constable Lewis said: "We have learnt much about the technology during the evaluation period, and its ability to help prevent and detect often serious crimes, along with how it can assist our officers in supporting the vulnerable.
"The report provides a balanced perspective of our use of the technology and hopefully it will help to demystify some of the misunderstandings and misinformation that have proliferated across the press."