Cardiff ticket levy could pay for events clean-up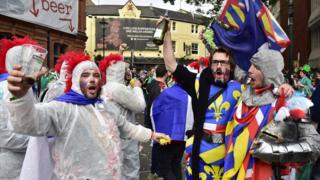 An extra charge could be added to tickets for major events in Cardiff to help cover the cost to the council.
Ed Sheeran fans left the city with 20 tonnes of litter to clear up after his four stadium concerts in June.
Big sports games, gigs and festivals also cost the council £100,000 a year in lost car parking revenue.
Cardiff cabinet member Michael Michael said the city wanted to welcome visitors but had to consider how to cover the cost of hosting major events.
The council is weighing up a possible levy, which could be negotiated with promoters, to recover its costs for providing support to events, according to the Local Democracy Reporting Service.
Hundreds of thousands of people attend major events in Cardiff every year but the local authority says it receives no extra money to clean up the mess which is often left behind.
A report to the council's cabinet said a review would consider adding a levy to ticket sales, but no decisions had been made on how much it would be if introduced.
Councillor Michael - responsible for clean streets, recycling and the environment - said: "The fact that we are the nation's capital and we are an events city needs to be taken into account, not only when business rates are set but in other ways to see if we can equalise the problem."
Event promoters in Cardiff pay business rates, but the money is sent to the Welsh Government which then re-allocates the money among all 22 councils.
Cardiff council is facing a budget cut of £35.2m for 2019/20, and a financial black hole of nearly £93m over the next three years.
The authority has made almost £250m savings over the past decade.