Ex-soldier 'devastated' after illegal log cabin destroyed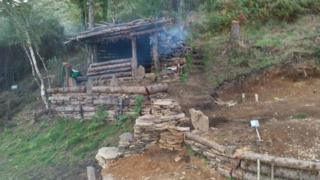 An ex-soldier's hand-built log cabin has been destroyed by officials as it was built without permission.
Mike Allen, 37, said working on the cabin for the past two years helped him to deal with his Post Traumatic Stress Disorder (PTSD).
When the former Lance Corporal went to the site near Wattsville, Caerphilly county, earlier this month he was "devastated" to see it had gone.
Natural Resources Wales (NRW) said it had been built "without our knowledge".
Mr Allen built the hideaway, close to Crosskeys, after his marriage collapsed and he was sleeping on friends' sofas.
"The cabin was my home, my sanctuary. It was causing no harm to anyone and curing me. I wouldn't be alive today without it," he said.
Building any structure in the Welsh Government's forest estate without permission is illegal.
The former Royal Welsh soldier, who worked as a mine clearer in Afghanistan in 2011, said he wanted to be away from society as he found it stressful.
"I found a way to fix myself at no cost to the taxpayer. I got better to the point where I was able to start work again as a groundsman.
"The cabin started as a shelter but turned into something really special. It gave me cover from the elements, focus and a sense of accomplishment whilst appreciating the landscape."
Mr Allen built a gym nearby and said he invited fellow ex-service personnel for health and fitness breaks, he also had a flower garden and treehouse for when his children Honey, eight, and Shea, six, visited.
NRW said its officers visited the site three times before any action was taken and did not believe anyone was living there.
A spokesman added: "The surrounding ground had been excavated, environmental features damaged and trees felled. The scale of this build could have been a risk for visitors and was not appropriate for the area."
Mr Allen said he was now sleeping on friends' sofas but insisted he would "rebuild the cabin and continue to help others".