Hendy Wind Farm protesters claim work has started on site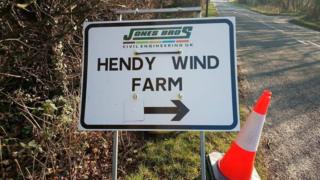 Developers behind a wind farm have denied protesters' claims bulldozers have starting digging at the site.
Last month the Welsh Government overturned Powys County Council's refusal to allow the plans to go ahead at Hendy, near Llandrindod Wells.
But work cannot start until the council has ruled on bids to alter the terms of planning permission.
Hendy Wind Farm said it had only carried out pre-commencement surveys and delivered machinery to the site.
Powys councillors had rejected the seven-turbine scheme in 2017, amid objections about the visual impact in a beauty spot and the threat to a protected public right of way, according to the Local Democracy Reporting Service.
A government planning inspector also refused the application, but he was overruled by Energy Secretary Lesley Griffiths, who said the benefits outweighed the possible negative impacts.
Despite the lodging of reserved matter applications to alter the conditions of the planning permission, local opponents of the project claim bulldozers have been seen digging on common land.
Protest group SOS Radnorshire said on Friday four of its members were threatened with police action when they blocked the entrance to the site.
A spokesman for Hendy Wind Farm said a number of "untrue" allegations had been made against the company.
"Since planning permission was issued on October 25, pre-commencement surveys have taken place and some machinery has been delivered to site to allow enabling works to begin," he said.
"All land rights required for access across the common land are in place."
The spokesman said the developers "continue to co-operate fully with Powys council" and were committed to "ongoing dialogue with key stakeholders and community representatives".
A spokesman for Powys County Council said that planning officers who visited the site "consider that the works undertaken to date could potentially constitute the commencement of the development".
"In light of this, they have advised that all works stop immediately and are not recommenced until after the relevant conditions have been discharged," the spokesman added.