Black Beauty horse gets commemorative green plaque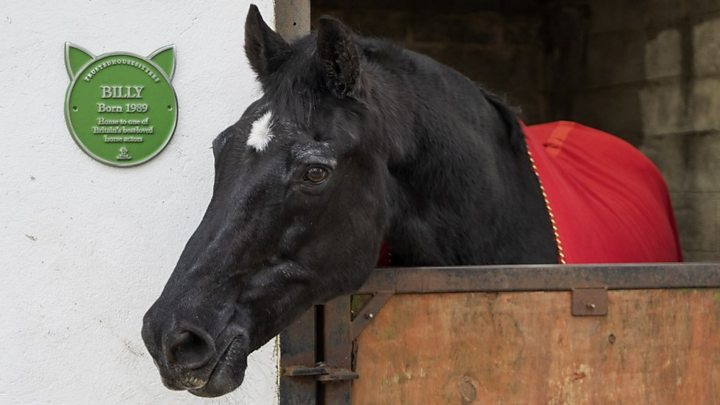 A horse that starred in the film Black Beauty has been awarded a commemorative plaque at his home stable.
Billy, a stallion who lives on a smallholding in Ffostrasol, Ceredigion, was one of five horses used in the 1994 film adaptation of Anna Sewell's novel.
That role has earned Billy the green plaque - the animal equivalent of blue plaques placed on famous people's homes.
He has since appeared in several music videos and a Guinness advert.
The film, which starred Alan Cumming and Sean Bean, portrayed the hardship of life for horses in the time of gas lamps and hackney carriages, but also the love between workers and the animals.
Billy's most famous scene involves him striking out at the walls of a stable to escape a fire and riding through a flock of geese.
But his owner Louis Maryon, who successfully bid to buy the stallion after filming had finished, said: "They could never persuade him to neigh - that's just as well, because he sounds like Scooby Doo."
Billy is now 29 and suffers from arthritis, but he and his farm are still a big draw for fans of the film.
Ms Maryon said: "When we held a birthday party for him a short time ago, 75 people turned up. We often have people connected with the film also paying a visit."
The plaques are distributed by pet-sitting business Trusted Housesitters, which has issued 23 plaques so far.
Other animal recipients include a horse that was regularly featured on the front cover of equestrian magazine Horse and Hound, a former Army labrador called Keda, who served in Afghanistan, and a dog and duck pair named Irma and North who helped ex-soldier Paul Wilkie in his recovery from PTSD.