Gareth Thomas 'humbled' by France rainbow laces gesture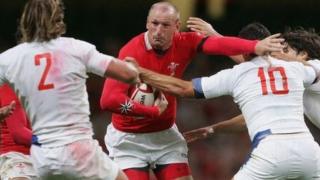 Former rugby star Gareth Thomas has said a decision by France's rugby team to wear rainbow laces in support of him is an "immense sign of inclusion".
Thomas, who came out as gay in 2009, was the victim of a homophobic attack in Cardiff city centre on Saturday.
On Tuesday, the French rugby federation (FFR) said its men's national side would wear rainbow laces in their game against Fiji this weekend.
Thomas said he was "truly humbled" by the support he has received.
In a statement on his Twitter page, former Lions and Wales captain Thomas said: "After the physical scars have healed, I feel I have to say an unbelievable thank you from me and all in the LGBT community for the support I have received.
"My mental scars will stay with me for some time, but will drive to fight even more for a world where acceptance of everyone is normal.
"To the French rugby federation, merci. The players wearing rainbow laces in solidarity is an immense sign of inclusion.
"To the group that attacked me, please stay true to your world and apologies. I believe you all when you said sorry."
Thomas revealed he had been attacked in a video on his Twitter account, where he had several visible marks on his head.
Officers dealt with a 16-year-old boy by way of restorative justice following a request by Thomas, who is from Bridgend, to "send a positive message".
The Rainbow Laces campaign began in 2013, when gay rights group Stonewall invited footballers in England and Scotland to wear them.
It has since been adopted by other sporting organisations as a symbol of LGBT inclusion.
Serge Simon, vice-president of the FFR, announced the decision on Twitter, saying: "We're all in with you in this matter."
Thomas enjoyed a successful spell in French rugby between 2004 and 2007, helping Toulouse become European champions in 2005.