Merthyr Mawr and Kenfig sand dunes set to be protected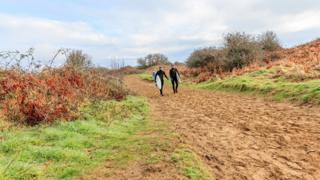 Sand dunes that were used in the film Lawrence of Arabia are set to be protected as part of a new two-year project.
The dunes in Merthyr Mawr stretch across 840 acres and are the second highest sand dune in Europe.
They will be enhanced by Bridgend Council, alongside those found in Kenfig.
It will involve increasing biodiversity, improving habitats, restoring some paths and boundaries.
The project has received £312,541 from Welsh Government and European funding.
Kenfig and Merthyr Mawr were once joined together as part of one belt of sand that ran all the way from the Ogmore Estuary to the Gower Peninsula.
They are now separated by Porthcawl, two golf courses and established farmland.
Councillor Charles Smith said: "Sand dunes are listed as one of the habitats most at risk in Europe, with many becoming smothered by thick vegetation and invasive scrub in recent decades."
He said the project would allow further conservation work "to help the dunes remain as shifting sandy habitats with a mixture of open sand, pools of water and varied vegetation".